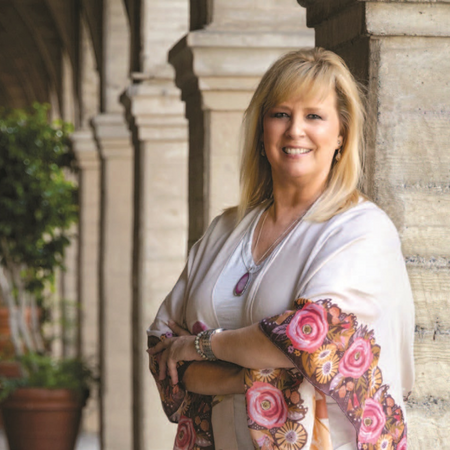 Teresa Rhyne, an estate planning attorney in Riverside, is IECF's Professional Advisors Champion for 2021/2022! She joins 38 other Professional Advisors who have received this distinction over the past four decades. It's our way of honoring and celebrating their expertise, partnership and contributions to the success of the Foundation and the region.
As generous donors consider organizations they'd like to support, IECF is privileged to have gained the confidence of an esteemed group of experts, including estate planning attorneys, CPAs, financial advisors, bank and trust officers, wealth managers and professional fiduciaries. These Professional Advisors play a critical role in the Foundation's success as they counsel their clients on financial, legal, and tax considerations, including charitable giving.
A Professional Advisor Champion has either established a fund in their own name or in their family's name or referred a client who then establishes a fund at IECF. Teresa has referred many clients to IECF over the years, and she's served as a board member, too.
"I first became acquainted with IECF when I was a partner in a local law firm. We handled legal matters for the Foundation, so I learned a lot about their role in the community," Teresa says. "Now, as an estate planning attorney, I talk to most of my clients about charitable giving because I think it's an important part of the overall picture."
During these conversations, Teresa's clients often want to know how they can trust a nonprofit to remain focused on its mission over time. "I tell them, 'You can't know that after you're gone, but there is an organization that can,'" Rhyne says, referring to IECF.  "If a client is interested in a cause, rather than picking one nonprofit that may not be the same organization 20 years from now, they can set up a fund through the Foundation," Rhyne says. "The Foundation can manage the fund and work with the donor and family members if they wish to be involved."
One of Teresa's clients created a trust for a Donor Advised Fund, which his five children now oversee. "His interests were animals and a particular disease that affected one of his family members, so every year the children get together to select organizations that support those causes," she recalls. "I think they'll be inclined toward charitable giving themselves, having participated in honoring their dad's memory this way."
Teresa feels confident when she refers a client to IECF. "What stands out about IECF is that it's very professionally run and has a stellar board, staff and volunteers. As a former IECF board member, I know the level of commitment and the impressive amount of detail and work that goes on behind the scenes. The Foundation has been around for 80 years, so that says a lot."
We congratulate Teresa on being named our 2021/2022 Professional Advisors Champion, with many thanks for helping us create a more equitable, just and vibrant region for everyone we serve!
Teresa is featured in our annual report. Read more here.
Stay up-to-date on the good work IECF is doing through the power of philanthropy. Sign up for our monthly eNewsletter, Philanthropy Matters.