PARTNERING WITH DONORS
PHOTOGRAPHY BY ALBERT ANGELO; ARRON NORRIS PHOTO SUPPLIED BY BRUCE NORRIS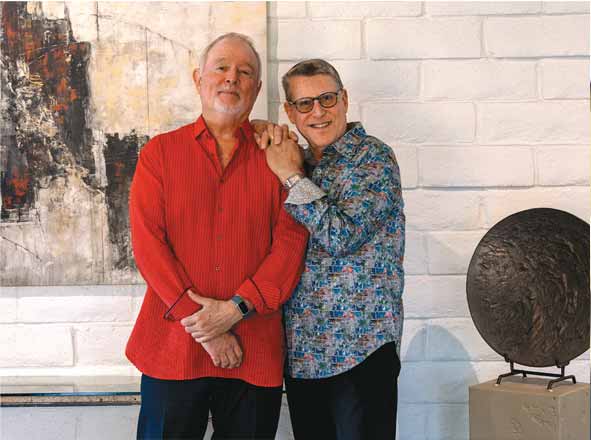 JACK & WALTER
Their donor advised fund allows them to steer support to meaningful causes
Jack Fitzsimmons and Walter Gendell have long championed causes and organizations they believe in but felt their efforts were a bit scattershot. When the Sonoma County couple retired from corporate careers and moved to Palm Springs, they decided a more disciplined approach was in order.
Acting on advice from their financial advisor, they set out to find a community foundation through which to establish a donor advised fund and were thrilled to discover IECF. "The fact that the foundation is grounded in the Inland Empire is very important to us," Walter says. "The level of commitment shown by its board of directors is really impressive," Jack adds.
The pair determined that many of the funds IECF represents align with their areas of interest. Those include a shared passion for art, Jack's interest in environmental issues, and a special commitment to organizations that serve the gay community. They expect their pattern of giving to naturally evolve as their understanding of the foundation's mission deepens and their IECF-facilitated connections continue to grow.
"We're embarking on a new journey," Walter says, "and we've chosen IECF to help us think through the strategy. They're the right organization with the right people to move us in the direction we're interested in going."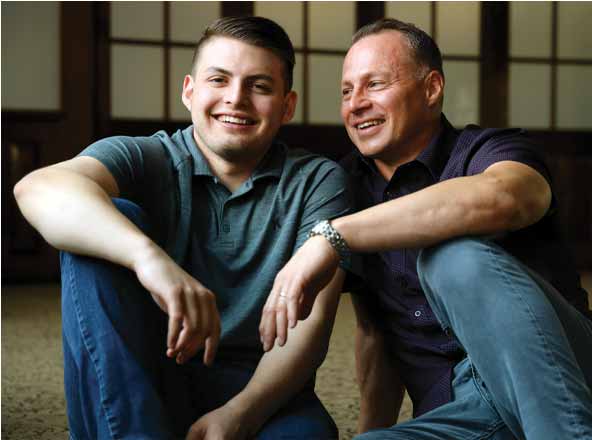 NOAH & DANIEL
San Manuel Band of
Mission Indians
The Tribe's fund supports its team members' educational goals
The cultural values and beliefs that the San Manuel Band of Mission Indians hold dear inspired the SMBMI Team Member Dependent Scholarship Fund. The fund, which awards scholarships of $3,000 to $10,000 to students planning to attend local two- and four-year colleges and trade schools, reinforces the Tribe's support of education initiatives in the region.
"The IECF scholarship has allowed me to focus on my studies and engage in the college experience," says recipient Noah Lewis, the son of Daniel Lewis, assistant manager of transportation at Yaamava' Resort & Casino at San Manuel. "Having the ability to go to a four-year university and pursue my dream of becoming a mechanical engineer has been an amazing opportunity."
Team member dependents submit applications online, and IECF verifies applications, grants awards, and distributes the monies.
"The Tribe continues to be strategic with their giving efforts and is always thinking of ways to help their team members grow," SMBMI Chairwoman Lynn Valbuena says. "The SMBMI partners with IECF because of the foundation's reputation and ability to manage assets that impact individuals in the community."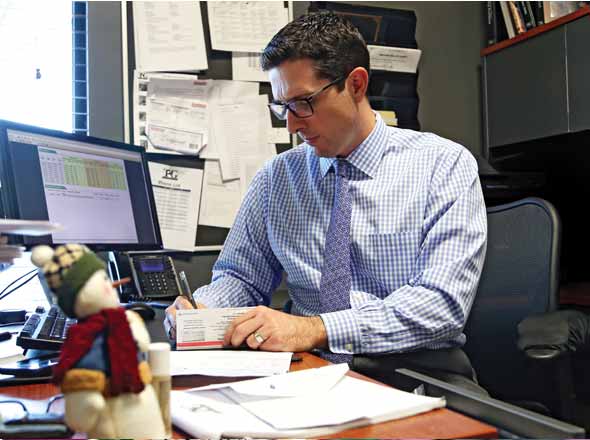 AARON NORRIS
His legacy gives children a platform for expression
Businessman, philanthropist, and performing arts enthusiast Aaron Norris lived his life at full throttle. "It never dawned on him that one thing was enough," recalls his father, Bruce Norris. "I don't think he ever quit thinking about what's next."
Aaron Michael Norris succumbed to cancer in July 2022, but not before he partnered with IECF to create the Aaron Norris Creative Fund, which supports arts programs in the Inland Empire.
Aaron prospered in the real estate investment and public relations fields and also had a knack for data and research — a skill that handily underwrote expenses in his 20s when he was living out his dream of performing on Broadway.
IECF fondly remembers Aaron for the leadership and dedication he provided the Give Big Riverside campaign, which raised more than $1 million for local charities. During his illness, Aaron never felt sorry for himself, and he was deeply moved to learn he could create a legacy fund.
"Aaron was always interested in helping people find a path," his father says. "As a child, he was very shy, and acting helped him enormously. I think his fondest wish would be that some shy kid who doesn't know how to change his life would discover acting and find his way forward just as he did. The Aaron Norris Creative Fund will give a child a chance to do that."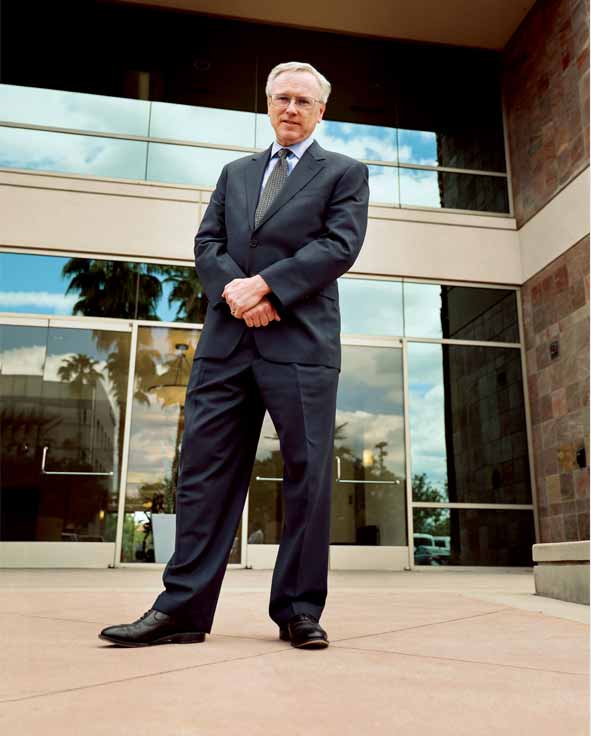 PHIL SAVAGE
He champions IECF for its time-tested stewardship
When working with clients and their families, estate planning attorney Phil Savage IV proudly underscores IECF's longevity and regional focus. "IECF has over eight decades of history and experience to ensure that donations will be stewarded to reach their intended purposes," he says. "It gives my clients confidence that their monies will go where they want them to go and be managed well."Savage, a past IECF board chairman and IECF Professional Advisors Champion, has first-hand knowledge. As a fourth-generation Inland Empire resident, he comes from a family that has been dedicated to community involvement and local philanthropy over generations.
Savage asserts that IECF is an important intermediary between donors and the nonprofits they want to support. "IECF can also help donors find local nonprofits they may not have been aware of, deepening the impact of their donation to support causes close to their hearts."
Learn how to become a Professional Advisors Champion by visiting iegives.org/advisors
VISIT

IEGIVES.ORG


TO LEARN MORE ABOUT
OPENING OR DONATING
TO A FUND
OUR TOP SUPPORTERS
Each has donated $1 million or more to date.
Estate of Molly Adams
Estate of Agatha J. Baxter
California Community Foundation
The California Endowment
City of Lake Elsinore
College Futures Foundation
County of Riverside – Housing, Homelessness Prevention and Workforce Solutions
County of San Bernardino – Controller
The Lillian D. DeSimone Trust
Estate of Marcia Ann Ellison
Kirsten Ingrid Fishler Living Trust
Mary C. Herdina Estate Trust
Foothill AIDS Project
Interfund Activity
Guide Dogs of the Desert
The James Irvine Foundation
Mr. James B. and Mrs. Marilyn S. Jaqua
Mrs. Dody Jernstedt and Mr. Dick Becher
Ms. Edith Johnson
The Johnson Foundation
Mr. Jack Long
Mt. San Jacinto College Foundation
Neuro Vitality Center
(formerly Stroke Recovery Center)
S.L. Gimbel Foundation
The San Diego Foundation
San Manuel Band of Mission Indians
Shield Realty of California
State of California – California Arts Council
State of California – Treasurer
Fred Stebler & Eva V. Stebler Foundation Trust
Winifred L. Stevens Foundation
Mr. Kyle Webb
Weingart Foundation
WildSpaces LLC
Willmas Trust
When considering investing your money, you want choices. IECF aspires to make supporting causes easy and effective, offering a variety of immediate, annual, and legacy giving options. IECF manages about 400 funds and often works with professional advisers who establish funds for their clients through these vehicles:
• Donor Advised Funds: You or your heirs direct how funds are used, and IECF offers guidance and IRS reporting. These funds make an immediate impact and support causes over time.
• Field of Interest Funds: Supports multiple nonprofits focused on an issue or a designated fund restricted to a specific organization through yearly grants.
• Endowed Funds: Establish any type of fund as an endowment that generates grants or scholarships in perpetuity through stock and bond investments. Direct where monies go or rely on IECF expertise to ideNtify areas of greatest need.
If you want to help your community without having to conduct extensive and constant research into nonprofit organizations, you can contribute to the Community Impact Fund, through which IECF's board of directors responds to the most critical needs in the region as they arise.
Appreciate a strong IECF building a "culture of philanthropy" in the Inland Empire? Consider giving to the Here for Good Fund, which provides annual support and community leadership on multiple issues, including advancing innovation and nonprofit capacity-building through regional fundraising and advocacy.
You needn't have a considerable cache of cash to make a difference. Other tangible assets can be put to philanthropic use. Perhaps you have stocks and bonds, real estate, an IRA account, intellectual property, or other assets of value. You can make a planned giving contribution through a bequest in a will or trust, retirement plan or life insurance beneficiary designation, charitable gift annuity, or charitable remainder trust. Even modest amounts can yield significant impact over time.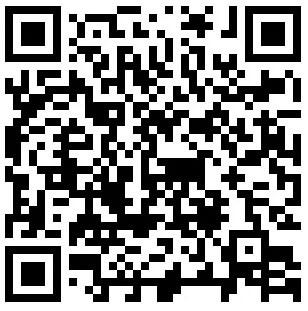 Scan this QR code to learn more about endowments, donor-advised funds, field-of-interest funds, scholarship and signature funds, and many other ways to give with cash and other assets.
Those wishing to establish a fund can contact Brie Griset Smith, senior vice president of charitable giving, at IECF headquarters in Riverside (951-241-7777); Jose Marquez, director of planned giving, also at IECF headquarters in Riverside; John McGuirk, regional charitable officer at IECF's Coachella Valley office (760-836-2400); or Darcy McNaboe, regional charitable officer at IECF's San Bernardino office (909-453-2400).
2005 Tate Family Trust
Adelante Partners Inc.
Ms. Violeta Aguilar-Wyrick
Albert A. Webb Associates
Alejandre For Superintendent 2022
Alta Loma Enterprises LLC
AltaMed Health Services Corporation
Altura Credit Union
Dr. Vicente and Mrs. Diana Alvarez
Amazon.com Services LLC
American Endowment Foundation
American Online Giving Foundation, Inc. (Benevity Foundation)
Andalusia Country Club
Anderson Professional Services
Andrew J. Jaramillo, CLU and Associates, Inc.
Mr. Edwin and Mrs. Teresa Andrews
Mr. Matt Antoniou
Arent Charitable Foundation
Armand E. Brachman Revocable Trust
Mr. Gary and Mrs. Mira Armstrong
Ms. Krystle Arzola
A Smidge of Ridge
Atkinson, Andelson, Loya, Ruud & Romo
Auburn Toyota
Avalon Management Group, Inc
Ayco Charitable Foundation
Mr. Matthew Brygger Baker
Mrs. Lynn Bogh Baldi
Ms. Pamela Balys
Bank of America Charitable Gift Fund
Bank of America Foundation
Mrs. Dora Barilla
Ms. Nancy Beddingfield
Mr. Michael and Mrs. Diane Beemer
Beghou Consulting
Mr. Eric and Mrs. Elizabeth Beghou
Mr. Kevin Berry
Mr. Denis and Mrs. Diana Bertone
Best Best & Krieger, LLP
Mr. Philp F. and Mrs. Meredith A. Bettencourt
Bill and Melinda Gates Foundation
Ms. Kathy Binder
Bishop Family Legacy Foundation
Mr. Eugene and Mrs. Janis Blakeslee
Mr. Cooper and Mrs. Mary Ellen Blanton
Mr. Geoffrey W. and Mrs. Julie M. Bloom
Mr. Sergio Bohon
Mr. Sergio and Mrs. Christy Bohon
Mr. Stephen Bowen
Mr. Robert Bradley
Mr. Terry Bridges
Mr. William and Mrs. Judith Britt
Dr. Paulette Brown-Hinds
Mrs. Michele Brown
Mrs. Summer Brown
Mrs. Stephanie Brydon Sirr
Ms. Dora Buchner
Mr. Steve and Mrs. Lupe Buhr
Mr. Ryan Bullard
Ms. Lauren and Mr. Timothy Burney
California Community Foundation
California State University, San Bernardino
California Wellness Foundation
Ms. Debbie Cannon
Capparelli & Associates, Inc.
Caravanserai Project
Ms. Guadalupe Cardenas
Mr. James and Mrs. Kim Carroll
Ms. Wilmer Carter
Mr. C. Mike Caruso
Catholic Charities San Bernardino & Riverside Counties
Mr. James Catlin
CBL Wealth Management
Chaffey High School Alumni Association
Charities Aid Foundation America
Charity Golf Today LLC
CIRE Equity
Cire Investment Services, Inc.
Mr. George and Mrs. Rachel Clark
Mr. James and Mrs. Susan Cody
Rabbi Hillel and Mrs. Rita Cohn
Mrs. Barbara Cole
Ms. Kathryn Cole
Mr. Joey D. and Mrs. Dean K. Collisson
Mr. Laurence Alan Colton
Mr. Wilson Constantine
Mr. Greg and Mrs. Elaine Cooper
Ms. Gail Coors
Mrs. Jeanie Corral
County of San Bernardino/Controller
Mr. Daniel Courtemanche
Cove Communities Senior Association
Mrs. Karen and Mr. Warren Craig
Mr. Mitchell and Mrs. Debra Creem
C&T's Shack, Inc.
Mr. John and Mrs. Terrie Cummins
Mr. Stephen Cunnison
Mr. Alan Curl
Mr. Brian Currie
Mr. Larry A. Cusack
David & Elynor Falk Survivors Trust
David T. Bristow, A Professional Corporation
Mr. Dwight and Mrs. Glee Ann Davis
Mrs. Joyce and Mr. Robert Dawson
Mr. Alan and Mrs. Rebecca DeBoer
Ms. R. Michelle Decker
Mr. William Derrenbacher
Desert Healthcare District
Mr. Samuel Dickinson and Ms. M. Sharon Barrett-Dickinson
Mr. George Dick
Mr. Jay Dimacali
Ms. Lynne Ditfurth
Mr. Michael and Mrs. Sharlene Doolin
Ms. Isabelle J. DuBois
Mr. Robert and Mrs. Martha Duncan
Mr. Christopher and Mrs. Carolyn Eadon
Ms. Virginia Eberhardt
Mr. Mark T. and Mrs. Candice W. Eberle
Edison International
Mr. Oscar Edwards
Ejay Filtration, Inc.
Mr. David and Mrs. Goldie Enger
Mr. Jonathan Espy
Ms. Edith Ettner
Mrs. Valerie Evans-Christensen and Mr. Doug Christensen
Mr. Thomas and Mrs. Deborah Evans
Ms. Lorraine P. Evans
Evelyn and Walter Haas, Jr. Fund
Event Brite
Exquadrum, Inc.
Facebook
Fairbrook Communities LLC
Fairway Foods
Mr. Murray and Mrs. Lynda Farmer
Farmers & Merchants Bank of Long Beach
Mr. Charles A. Ferrell
Mrs. P. Maryetta Ferre
Mr. John Fess
Fidelity Charitable
Mr. Robert Field
Mr. Douglas and Mrs. Kristine Fioresi
Fontana Public Schools Education Foundation
Fore Girls Golf
Foundation of The Yucaipa Rotary Club
Fox Riverside Theater Foundation
Mr. Franz Frei
Mr. Steven Freimuth and Ms. Jeanne McNamee
Frick, Frick & Jette Architects, Incorporated
Mr. John R. Fuchs
Mr. Jon Fukuto
Gaby Plascencia Riverside City Council
Mr. Ryan Gallagher
Ganan Sales Company, LLC
Mr. Larry and Mrs. Marge Gehl
Mr. Jeremy Geng
Ms. Beverly Gilbert-Gard and Mr. Gregg Gard
Ms. Karen Gilyard
Mr. Wilard E. Gleeson
Ms. Susan Gomez
Mr. Russell S. Gould
Grace Helen Spearman Charitable Foundation
Grand Terrace II
Mr. Mark Anthony and Sherry Grasso
Mr. Billy Gray
Mrs. Mary and Mr. Daniel Greening
Guillermo J. Valenzuela Foundation
Ms. Holly Guntermann and Mr. Paul Bakkom
Mr. Kenneth and Mrs. Mary Gutierrez
Ms. Joan Hackel
Mr. Thomas Hageman
Mr. Thomas and Mrs. Sandra Hageman
Mr. Tom and Mrs. Annette Haigh
Ms. Kaaren Hall
Ms. Amanda Han
Mr. Mike and Mrs. Elaine Hansch
Mr. Richard and Mrs. Christina Harris
Mr. Robert E. and Mrs. Lauren D. Haugan
Ms. Susan Hawken
Mr. David and Ms. Virginia Hayward
Helen Briggs Jones Accounting Services
Mr. Daniel Heller and Mrs. Debra Jamin Heller
Mr. Robert E. and Mrs. Jacqueline E. Helpern
Mr. Ronnie D. and Mrs. Lindsay J. Henderson
Herb and Cheryl Fischer Trust
Heritage House Operations, RMA
Mr. Dennis Hernandez
Mr. Frank Heyming
Mrs. Mary Lou and Mr. Philip Hicks
Dr. Beth B. Higbee
Mr. Dennis and Mrs. Mary Hill
Ms. Elaine Hill and Mr. John Schoettler
Mr. Larry Hilsabeck
Ms. Michele Himmelberg
Mr. Chet Hitt
Mr. David Hjorth
Mr. Nicholas Hjorth
Mr. Dennis and Mrs. Dorothy Holmes
Mr. Clifford and Mrs. Teri Holtz
Mr. Christopher Edwin Hopkins-Gillispie
Mr. Randall and Mrs. Tricia Hord
Ms. Lillie and Mr. Marcus Houston
Mr. Paul and Mrs. Darlene Howard
Mrs. Beth Ann and Mr. Jeff Hullinger
Mr. Frederick Hull
Dr. Donna Marie Hunter
Mr. Guy and Mrs. Laurie Icenogle
Mr. Jay and Mrs. Cindy Ihlenfeld
Imperial Commercial Cooking Equipment
Inland Empire Community Collaborative, Inc.
Inland Empire Community Foundation
Inland Empire Health Plan (IEHP)
Inland SoCal United Way
INYO County Schools
Mr. James Jack
Ms. Catherine Lee Jackson
Ms. Ardee and Mr. Terry Jagt
Mr. Clint L. James
JASASA, Inc.
John Russell Burton Living Trust
Mr. Charley Johnson
Ms. Kathy Johnson, CPA
Mr. Larry and Mrs. Nancy Justis
Kaiser Foundation Health Plan, Inc.
Mr. Jeffrey L. Kaiser
Kam Customs LLC
Ms. Jennifer Kane
Mr. Sudir Kapadia
Mr. Charles Karubian
Ms. Vickie Katnik
Mr. Gary Katz and Mrs. Jerrie Rindahl-Katz
Ms. Lynda Keeler
Mr. James and Mrs. Jeanne Kennedy
Ms. Jeanine F. Kennedy
Mr. Chris Killiany
Ms. Elise Killiany
Mr. Thomas and Mrs. Deborah King
Kirsten Ingrid Fishler Living Trust
Klein Family Trust
Mr. Clayton and Mrs. Roberta Klein
Mr. Hart and Ms. Barbara Klein
Ms. Jahanna Knight
Mr. John Knopf and Mrs. Lisa Sultzman-Knopf
Mr. Clark and Mrs. Mary Kosty
Mr. David Kramer
Mr. John Lafayette
Lake Elsinore Storm, LP
Mr. Robert J. and Mrs. Marilyn Lang
Mrs. Jane and Mr. Richard Lapado
La Quinta Chevrolet and Cadillac
Mr. Larry and Mrs. Laurie Aarsby
LA South REIA
Law Office of Darren P. Trone
Ms. Brenda Leatherwood
Mrs. Susan and Mr. Phil LeBlanc
Mr. Andrew Leeds
Mr. Brent Lee
Mr. Rick and Mrs. Carla Lehman
Mr. John and Mrs. Kimberly Leja
Mr. Raymond and Ms. Julie Leonard
Mr. Alan Leupp
Ms. Annette Levi
Lewis Family Foundation
Mr. Randall and Mrs. Janell Lewis
Mr. William and Mrs. Sandee Lewis
Ms. Kathleen Lewis
Liberty Hill Foundation
Mr. Jon Licht
Lift to Rise
Mrs. Diane and Mr. Kirk Lighthall
Ms. Jennifer Lim
Liquid Nitro Beverages, Inc.
Mr. Jason T. Locl
Mrs. Nefertiti Long
Mr. David Lorati
Ms. Cindy R. Louws
Mr. Dominic Lowe
Ms. Justine Lucas
Mr. Stuart MacGregor and Ms. Colleen Campbell
Ms. Gloria Macias-Harrison and Mr. Bill Harrison
Maloney Trust
Manufacturers Bank
Marianne Stamm Revocable Living Trust
Dr. Dale and Mrs. Laurie Marsden
Dr. Cheryl Marshall
Mr. Kenneth B. May
Mr. Douglas and Mrs. Kathy McCarthy
Ms. Linda McCaughin and Mr. Philip Strong
Mr. Michael K. McCluskey
Mrs. Karen and Mr. Doug McColeman
Dr. Ronald McCowan
Mr. Michael McGrady
Mr. James McIntire
Ms. Joyce McKay
Mrs. Dawn and Mr. Robert McLean
Ms. Karen McMenomy
Mr. Michael McNitt-Gray
Mr. Mike and Mrs. Belinda McPherson
Medtronic Foundation
Mr. Jacob Mejia
Mr. Jesse Melgar
Ms. Carol Mendoza
Ms. Vicki Merchant
Mr. Richard Millar
Mr. Dennis and Mrs. Jackie Miller
Mr. Tremaine Mitchell
Ms. Caroline Montalbo
Moreno Valley Unified School District
Mr. Mark and Mrs. Shelley Morgan
Morgan Stanley Gift Fund
Mr. Vincent and Mrs. Luanne Moro
Mr. Gregg and Mrs. Deirdre Morris
Mr. Patrick Morris
Mountain High Escrow Inc.
MPK Advisors & CPAs
Mr. and Mrs. Richard Stalder
Mr. William L. Scheffler and Ms. Ann E. Sheffer
MUFG Union Bank, N.A.
Mr. Gerald M. Murch
Mrs. Paula Myles
Mrs. Paula and Mr. Steve Myles
National Philanthropic Trust
National Women's Political Caucus – Pomona/Inland Empire
Mr. Kirk and Mrs. Sandy Newby
Mr. Ryan Nichols
Mrs. Sharon Nigro
Mr. Robert Niven
No Name Individual
NSDREI Association, Inc.
Nulevel Partners
Oak Grove Center for Education Treatment and the Arts
Mr. Carl M. Obeck
Mr. Andrew and Mrs. Risa Olsen
Optimus Building Corporation
Mr. Terry and Mrs. Nancy Otton
Palmieri, Hennessey & Leifer, LLP
Paloian Family Foundation, Inc.
Mr. Rick and Mrs. Traci Palo
Mr. James and Mrs. Donna Parker
Mr. Robert and Mrs. Jane Parker
Ms. Joy T. Parker
Patriot Wealth Management
Mr. Mark A. and Mrs. Joan S. Perkins
Mrs. Ila Perrine
Mr. Kenneth Perry
Mr. Richard and Mrs. Noreen Peschke
Peter Reiskind Holdings ULC
Mr. Robert and Mrs. Jeanette Pfotenhauer
Mr. Steve and Mrs. Lori Phillipi
Mr. Michael Phillips and Mrs. Audrey Teren-Phillips
Ms. Kristin B. Pierce
Dr. Roy Pitkin
Mr. Mike and Mrs. Vivian Pohl
Mr. William and Mrs. Lynn Poland
Mr. Dennis and Mrs. Yvonne Powell
Ms. Mary Ellen Prout
Public Relations Society of America – Inland Empire Chapter
Quality Inn & Suites
Ms. Kay Ragan
Ramage Family Trust
Ms. Marisol Ramirez
Rancho La Quinta Master Association
Randall W Lewis Family Foundation
Ms. Connie Ransom
Mr. George and Mrs. Nancy Records
Mr. Lawrence and Mrs. Katherine Remmers
Renaissance Charitable Foundation Inc.
Mr. Marc and Mrs. Katherine Resteiner
Mr. Chris Reynolds
Mr. Robert Rice
Mr. Bruce and Linda Ricker
Mr. Michael and Mrs. Julia Rickus
Mr. Michael and Mrs. Tracy Riley
Ms. Joanna Rinella
Riverside Arts Academy
Riverside Community College District
Riverside County Judges Association
Riverside County Office of Education
RJ Powell Cosultants Inc.
RJR Industrial Properties
Mr. Angel Rodriguez
Ms. Anna Maria Rodriguez
Mr. Jeremy Roll
Mr. Thomas and Mrs. Marjorie Rooney
Ms. Christine Roque
Mr. Ivan Rosales
Ms. Maureen Rose
Rotary Club of Redlands Foundation
Mr. Frederick and Mrs. Suzanne Roth
Mr. Ronn Ruiz
Mr. Albert and Mrs. Ann Russello
Safe Schools Desert Cities
Ms. Irene Salyer
San Bernardino Community College District
San Bernardino Community Scholarship Association
Sandee
San Diego Foundation
Ms. Judith Saner
San Manuel Band of Mission Indians
Mr. Kenneth and Mrs. Gloria Sargent
Mr. Philip Savage, III
Mrs. Callie Sbarbaro
Mr. Allyn B. Scheu
Mr. Matthew and Mrs. Charity Schiller
Mr. and Ms. John Schmidt
Mr. H. William and Mrs. Sandra Schnack
Mrs. Wanda and Mr. Carl Schneider
School Portraits by Adams Photography, Inc.
Mr. Herb K. Schultz and Mr. Stuart L. Leviton
Schwab Charitable Fund
Ms. Marian Schwartz
Dr. Marvin and Mrs. Stephanie Segal
Mr. Dean and Mrs. Dawn Serbus
Serrano Apartment Rental
Mr. Marc and Mrs. Lisa Shaw
Ms. Vivian and Mr. Robert Shaw
Sherrifs Family Trust dtd 4/29/98
Sierra Health Foundation
Silicon Valley Community Foundation
Mr. Timothy and Mrs. Katie Skrove
S.L. Gimbel Foundation
Mr. David E. Smith
Mr. Larry and Mrs. Sue Smith
Ms. Brie Smith
Ms. Grace Song
Southern California Association of Governments
Mr. Nolan Sparks
Mr. Joe Staley
Mr. Robert Stanard II
Stanislaus Community Foundation
S.T.A.R. Orthopaedics, Inc.
State of California- CAC
Mr. Eric Stattin
Mrs. Martha Stattin
Mr. Dan Stauber
Stebler Trust (Fred Stebler & Eva V. Stebler Foundation)
Mr. David A. Stech
Mr. Gordon Steele
Ms. Sharon A. Stegmuller
Mr. Jeffrey and Mrs. Joyce Stehney
Mr. Mark Stevens
Ms. Cristen Stier
Mr. Tommy Stokes
Storm Events LLC
Ms. Susan Straight
Streams in the Desert Foundation, Inc.
Stuff Pizza Bar & Grill
Mr. Victor and Mrs. Karen Suarez
Ms. Karen Suarez
Success Institute
Ms. Lynn Summers
Sunshine State Cash Flow Investments LLC
Ms. Christina Suter
Ms. Nancy Sutterley
Mrs. Mary and Mr. Robert Szeyller
Mr. Michael and Mrs. Anne Taft
Ms. Judy Takano
Mr. Dwight Tate
Mr. Charles and Mrs. Gail Taylor
Mrs. Rozlyn Taylor
Mr. Steven Taylor and Ms. Susan Oberlink
Teaman, Ramirez & Smith, Inc.
Mr. Timothy Paul Telliard
Mr. Emmett L. Terrell
Mr. Ken Thayer
The Aaron M. Norris Revocable Living Trust
The Aaronson Trust DTD Nov 7 2017
The Alderson Family Foundation
The Antone Family Trust
The Arc of Riverside County
The Betty R. and Ralph Sheffer Foundation
The Billy & Irene Gray Living Trust
The California Endowment
The Chinook Foundation
The Community Foundation of Macon County
The Dora Buchner Trust (Revocable) dtd 10/11/13
The Helga Merzario 2016 Trust
The James Irvine Foundation
The Jewelry Source Inc.
The Larry and Helen Hoag Foundation
The Lillian D. DeSimone Trust
The Norris Family Trust
The Petrocelli Family Trust
The PNC Financial Service Group
The Ryan Family Trust
The Smidt Foundation
The Taylor Family Trust
The Wildlands Conservancy
Mrs. Lynn and Mr. Richard Thurber
Mr. Michael Tillison
Tippy's Tow Service
Tom Klemens Family Foundation
Ms. Helen Torres
TPT Enterprises LLC
Mr. Robert Trevino
T. Rowe Price Program for Charitable Giving
Mr. Terrence Trudo
Trust Properties, USA
Ms. Alice Tsai
Mr. Bill Tumelty
Mr. Sherwyn Turbow
Mr. Jim and Mrs. Lilah Tusko
Tzunu LLC
Mrs. Janice and Mr. Curtis Uehlein
Union Pacific Foundation
United Way of the Inland Valleys
University of California, Riverside
Mr. Scott and Mrs. Kathi Urie
US Bank
Mrs. Ofelia Valdez-Yeager and Mr. Louis Yeager
Ofelia and Ley Valdez-Yeager, Yeager Mr. and Mrs.
Mr. Greg and Mrs. Annie Van Dyke
Vanguard Charitable
Mr. William Van Matre
Mr. Jan and Mrs. Theresa Van Willigen
Ms. Merria Velasco
Vendetta Brewing Co & Brewja
Mrs. Lucinda Vennes
Verizon
Ms. Cecilia Vest
Mr. Robert Victor
Village Hardware & Lumber Inc.
Mr. Harold and Mrs. Kelle Vollkommer
Mr. Luca Volpe
Ms. Tracy Walsh
Mr. Neal and Mrs. Joyce Waner
Mr. Duncan and Mrs. Gail Warden
Mr. Russell Watkins
Weingart Foundation
Mrs. Peggy and Mr. Jack Weisbly
Mr. Dennis A and Mrs. Monya J. Weissert
Wells Fargo Foundation
Mr. John Welty and Ms. Sharon Brown-Welty
Western Wind Foundation
Dr. Judy White
Mr. Alex White
Mr. Ronald and Mrs. Sherril White
Ms. Joanne Wicker
Will Family Medical Group
Dr. Ron Williams
Mr. Scott and Mrs. Kitty Williams
Mr. Thomas and Mrs. Lori Williams
Willmas Trust c/o Comerica Bank
Wilmer Amina Carter Foundation
Mr. Theodore and Mrs. Mary Kathryn Wilm
Mr. Rhett Wilson
Mr. John and Mrs. Lisa Wing
Mr. John Wise and Ms. Michelle Henricks
Women's Foundation California
Mr. Alan Wood
Ms. Rita Wood
Dr. Katherine Wright
YourCause, LLC Trustee
Ms. Treasure Zimmerman
Mr. Marcelo Ziperovich
Mr. John and Mrs. Shannah Zorn
150 Circle of Giving Fund
Academy for Grassroots Organizations fka HDRN Operations Fund
Agatha J. Baxter Memorial Scholarship Endowment Fund
Albert & Anna Herdina Memorial Fund for Animals
Albertyn Family Donor Advised Fund
Altura – Bonnie Gail Polis Donor Advised Educational Endowment Fund
Altura Credit Union Board of Directors Educational Endowment
Altura Credit Union Foundation Fund
Altura Credit Union Mark W. Hawkins Community Service Endowment
Altura Credit Union Member Adult Education Scholarship
Altura Credit Union Member Scholarship
Altura – Dr. Linda Wisher Endowment
Altura – Kimberly Jean Flores Memorial Donor Advised Scholarship Fund
Altura – Marian Luna Memorial Donor Advised Scholarship Fund
Altura – Mark & Dawn Hawkins Educational Endowment
Altura – Terry Ferrone Memorial Donor Advised Scholarship Fund
Andalusia Country Club Education Fund
Angela C. Gomez Memorial Foundation Fund
Angela C. Gomez Memorial Fund for Children's Hospitals
Animal Samaritans Restricted Reserve Fund
Arthur L. Jacobson Donor Advised Fund
Assistance League of San Bernardino Fund
AVC Foundation Fund
AVC Foundation In Need "Endowment Fund"
Baldy View ROP Endowment Fund
Bank of America – IEGO Grant Fund
Banning Community Fund
Ben and Chris Ramirez Charitable Gift Annuity Fund
Bertha M. Green Fund
Beth G. Anderson Fund to Benefit Airforce Village West Foundation
Bette Harrison Scholarship Fund
Beverly J. Soderling Scholarship Fund
Bianca and Nick Heyming Full Spectrum Donor Advised Fund
Bill and Gloria Harrison Donor Advised Fund
Bohon Family Community Fund
Brammer Trust Endowed Fund
Brian L. Wachs Charitable Gift Annuity
Bruce and Nancy Varner Donor Advised Fund
Bruce and Regen Dennis Scholarship Fund
Bud and Myrna LaRue Stark Literacy Fund
Butch Hill Donor Advised Fund
California Complete Count – Census 2020
California For All Emergency Preparedness Campaign
California Regional Environmental Education Community Fund
California Retired Teachers Association Div #89 Palm Springs Advised Scholarship Fund
California Retired Teachers Association Riverside Division #21 Advised Scholarship Fund
Cardenas Markets Scholarship Fund
Carl Graves Endowment Scholarship Fund
Carol G. Meier Fund to Benefit Arts Education in the Coachella Valley a Sub Fund of The Coachella Va
Castro/Falk Endowed Scholarship Fund of the Coachella Valley
Catholic Charities Children's Fund
Catholic Charities Coachella Valley Fund
Catholic Charities Endowment Fund
Catholic Charities Family Strengthening Fund
Catholic Charities Homeless Prevention Fund
Catholic Charities New Americans Fund
Catholic Charities Nicholas and Sophia Kosta Education Fund
CCF-Just San Bernardino Fund
Charles and Myrna Rohr Endowment Fund
Charles and Shelby Obershaw Fund for the Dr. Earl R. Crane Children's Dental Health Center
Charles and Shelby Obershaw Fund for the San Bernardino City Library Foundation
Charles and Shelby Obershaw Fund for the San Bernardino Symphony Association
Charles "Chuck" T. Harmon/Gordon A. Lounsbury Memorial Endowment a Donor Advised Fund
Charles E. Brouse Fund
Charles F. and Wilhelmina E. Clark Botanical Fund
Charley and Emilie Graham Museum Fund
Cheryl Brown Community Impact Fund
Cinco de Mayo Youth Scholarship Advised Fund
Clara R. Brouse Fund
Clifford N. Moore & Grace Abney Moore Fund
Coachella Valley Arts Fund
Coachella Valley Endowment For HIV Fund
Community Impact Fund
Community Response Fund
Cornerstone Fund
COVID-19 Riverside Restaurant Fund
Crafton Hills College Foundation Fund
CryoWorks, Inc. Employee Scholarship Fund
Dave and Mary Hjorth Family Donor Advised Endowment Fund
Dave and Mary Hjorth Family Donor Advised Granting Fund
Desert Legacy Donor Advised Fund
Desert Outreach Foundation/Desert Rainbow Foundation Scholarship Fund
D. Glenn Hilts Donor Advised Scholarship Fund
Diana Harrison Fund
Dick and Audrey Evans Scholarship
Directors' Fund
Dollars For Scholars Scholarship Fund
Donald L. and Joyce B. Curtis Endowment Fund
Dorothy Fullerton Fund
Dr. Abram I. and Sylvia S. Chasens Endowment Fund
Dr. Barnett and Eleanor Jean Grier Advised Scholarship Fund
Dr. Horace Jackson Legacy Scholarship Fund
Dr. Loren E. Sanchez AVID Scholarship
Drs. Herb and Cheryl Fischer Scholarship Fund
Edith Jamin Memorial Scholarship Fund
Edna B. Lockhart Fund
Eleanor K. Hampson Endowment Fund
Eleanor Pearl Hunter Trust
Elissa Hepner Donor Advised Fund
Elizabeth C. and Jack B. Clarke Sr. Donor Advised Scholarship Fund
Elizabeth W. Vermillion Fund
Ella A. Trenchard Fund
Emanuel Baldi Fund Benefiting ARC Riverside
Environmental Education Collaborative Fund
Estate of Charles Hunter
Estate of Rohn Rookstool
Eva Baerwald Fund
Evelyn and Walter Haas Jr. Fund – Redistricting
Foundation of Grand Terrace Fund
Fox Cultural Arts Fund
Fragen/Korff Family Advised Fund
Franklyn D. and Barbara Gile Trust Endowment Fund
Fred Stebler and Eva V. Stebler Foundation Designated Fund
Fred Stebler and Eva V. Stebler Foundation Fund
Fred Stebler and Eva V. Stebler Foundation Unrestricted Fund
Funders Alliance – Census 2020 Collaboration
Funders Alliance – Strategic Planning
Gabbert Justice Donor Advised Fund
Gates-Inland Empire Coalition Building Grant
G. "Bummy" Burstein Donor Advised Fund
George and Evelyn Howard Endowment Fund
George E. Brown Jr. Donor Advised Fund
Georg Erk Charitable Gift Annuity Fund
Gerald "Bummy" Burstein Donor Advised Endowment Fund
Give BIG – Riverside Fund
Give BIG – San Bernardino County Fund
Gracie Gagnet Memorial Fund
Graduate Success Fund
Grand Terrace Lions Club Community Center Fund
Grant Nunnally Memorial Scholarship at Woodcrest Christian High School in Riverside, CA
Guhl Medical Scholarship Fund
Guide Dogs of the Desert Securing Our Future Fund
Hans Baerwald Advised Fund
Harns Family Donor Advised Fund
Harns Family Endowed Donor Advised Fund
Harriet Ruth Montelius Fund
Harrison Family Fund
HDCF – Clarence Muirhead Memorial Scholarship
HDCF – Florence Lindberg Memorial Scholarship Fund
HDCF – Mojave Aquatics Coalition Fund
HDCF – Towle Family Fund
HDCF – Trever Bennett Memorial Scholarship Fund
HDCF – Walter E. Cramer & Margaret Muir Cramer Fund
Hemet Education Foundation Endowment Fund
Hemet Hospice Volunteers, Inc. Fund
Hemet Library Foundation Fund
Henry W. Coil and Alice Edna Coil Donor Advised Fund
HIV/Housing/Homeless Fund
Hope For All Fund
HOPE (Helping Others Provide Empowerment) Endowment Fund
H. Ted and Bettie Smith Donor Advised Fund
I CARE ALZ
Ida B. Bruce Fund
Idyllwild Community Fund
Idyllwild Community Fund General Operations
Idyllwild Help Center Burgess Fund
Idyllwild Pines Endowment Fund
IECF Anniversary Scholarship Fund
IECF Operating Fund
IECF Operating Reserve Fund
IE COVID-19 Resilience Fund
IEFA Redistricting Fund
IESARC Fund
Illes Family Donor Advised Fund
Imperial Employee Scholarship Program Fund
Inland Empire Black Equity Fund
Inland Empire Disaster Relief Fund – Riverside County
Inland Empire Disaster Relief Fund – San Bernardino
Inland Empire Funders Alliance Operations Fund
Inland Empire Funders Alliance Rapid Response Fund
Inland Futures Foundation of San Bernardino Community College Fund
Inland Southern California Wildfire Relief Fund
Irene S. Rockwell Fund
Jacques Yeager Community Impact Fund
James and Cecilia Cuevas Family Donor Advised Endowment Fund
James and Cecilia Cuevas Family Donor Advised Gifting Fund
James Bernard and Mildred Jordan Tucker Fund
James Buchner Memorial Scholarship Fund
James Irvine Foundation – Black Equity Initiative
James Irvine Foundation – IEGO Implementation
James Irvine Foundation – IEGO Planning
James Irvine Foundation – Just San Bernardino
James Irvine Foundation – SB Regrant Planning
James K. Wilden Fund
Jane Hoff Charitable Gift Annuity
Jay Allen 65th Birthday Fund
Jean M. King Fund
Jerome Harrison Scholarship Fund
Jim and Susie Jaqua Donor Advised Fund
Joanna Hayes Foundation Fund
John and Mary Vanderzyl Funding The Future for Children's Services at the Riverside Public Library
John Elmer Smith Western Book Endowment Fund
Johnson Tractor Company Fund
Joyce A. Montgomery Charitable Gift Annuity
Joyce A. Montgomery Donor Advised Fund
Junior League of Riverside Agency Endowment Fund
Junior League of Riverside Endowment Fund
Jurupa Mountains Discovery Center Compensation Fund
Jurupa Mountains Discovery Center Maintenance Fund
Karen and Nate Cheney Family Scholarship
Kenneth E. Wood Endowment Fund
Kenneth E. Wood Youth Philanthropy Fund
Kiwanis Club of Riverside Endowment Fund
Knudtson Family Fund
Kresge IEGO Grant Fund
Lehmer Endowment Trust Fund
Lena T. Pond Fund
Leona Aronoff Charitable Foundation Donor Advised Fund
Leonard Family Scholarship Fund
Leon S. Heseman Fund
LEVEF Advised Endowment Fund
Lewis Medical Scholarship Fund
Lorna B. Rich Endowment Fund
Lorraine J. Cardin Donor Advised Scholarship Fund
Louise J. Funk Scholarship Fund
Louise Taylor Scholarship Fund
Lucille and Roy Anderberg Nursing Scholarship Fund
Lucille B. Anderberg Scholarship Fund in Memory of Arthur and Lillian Bird
Luise Hass Donor Advised Fund
Luraine MacLeod Gift Annuity
Mapping Black California Fund
Marc and Shirley Burton Family Fund – CRUT
March Field Museum Fund
Marcia Ann Ellison Designated Fund
Marcia Ann Ellison Fund – Field of Interest
Marcia Ann Ellison Fund – Nursing Scholarship
Margaret B. Branchflower Endowment Fund
Margaret Morgan & Mary Morgan Pedlow Memorial Fund
Marianne Stamm Legacy Fund
Martha's Village and Kitchen Food Fund Endowment
Marvin Edward Leggett Jr Endowment Fund
Maxine Tate Library Fund
Mighty Oaks Legacy Endowment Fund
Mildred Capraro Kinnan Fund
Mildred E. Smernoff Animal Care Fund
Mojave National Preserve Conservancy Fund
Molly Adams Endowed Scholarship Fund
MOSAIC Fund
MSJC-01 Alice Jean Turner Perpetual Scholarship Fund
MSJC-02 SJC Audio Fund
MSJC-03 Charles and Norma Opie Endowment
MSJC-04 Mary M. Downey & Patricia Mcsweeny Mccauley Endowed Fund for Allied Health Science
MSJC-05 Doyle Memorial Endowment
MSJC-06 Emma J. Hammagren Perpetual Scholarship
MSJC-07 Glenn Steinback Scholarship
MSJC-08 GL Tyler Memorial Fund
MSJC-09 Helen C. Coverdill Memorial Scholarship
MSJC-10 Harold Heller Endowed Scholarship
MSJC-11 James Simpson Memorial Scholarship
MSJC-12 Dr. Milo P. Johnson Scholarship
MSJC-13 Mina Pennick Perpetual Scholarship
MSJC-14 McQueen Scholarship
MSJC-15 McAtee Scholarship
MSJC-16 Nolur Scholarship
MSJC-17 Operating Expense Account
MSJC-18 Performing Arts Fund
MSJC-19 P&H Iverson Scholarship
MSJC-20 Presidents Pooled Scholarships
MSJC-21 Paul E. Tibbets Memorial Fund
MSJC-22 Robert and Alma Burke Memorial – Art Scholarship
MSJC-23 Robert and Alma Burke Memorial – Music Scholarship
MSJC-24 Robert D. Heffner & Trudy N. Heffner Memorial Scholarship
MSJC-25 Raymond and Leila Marie Waterhouse-Edwards Endowed Fund
MSJC-26 Rohrabacher Memorial Fund
MSJC-27 Rancho Temecula Area Woman's Club
MSJC-28 Sandra J. Saraydarian Scholarship
MSJC-29 Sylvia Shirko Endowment
MSJC-30 Dr. E. Stoddard Music Fund
MSJC-31 Symphony Fund
MSJC-32 William Billion Scholarship
MSJC-33 Weinstein Perpetual Scholarship
MSJC-34 William W. Pemberton Endowed Scholarship
MSJC-35 William Sprowl Memorial Book Scholarship
MSJC-36 Zena Sharp Memorial Scholarship
Myron M. Winslow Fund
Neal and Joyce Waner Donor Advised Fund
Neuro Vitality Foundation Fund
Ontario-Montclair Promise Scholars Fund
Operation Safe House Endowment Fund
Patricia and Trevor Jones Gift Annuity
Paul and Carol Fick Donor Advised Fund for the Arts
Pavement Recycling Systems Scholarship Fund in Memory of Chuck Harmon,Dick Sprinkle,Gordon Lounsbury
Peggy Fouke Wortz Friends of the Family Fund to Benefit Family Service Assoc. of Western Riverside
Peggy Fouke Wortz Memorial Community Impact Fund
Perris Valley Heritage Fund
PGA WEST Education Fund
Philanthropy Hub Project Fund
Plymouth Tower Fund
Polly R. Reynolds Fund
Rancho La Quinta Education Fund
Randall and Janell Lewis Scholarship Fund
Redlands Bowl Performing Arts Fund
Red Ribbon Fund
Reed Memorial Fund for the Blind
Reginald Keith Edmond II Donor Advised Scholarship Fund
Reid Park Fund
Richard and Virginia Schneider Fund
Richard F. and Mary C. Boyles Memorial Advised Scholarship Fund
Richard G. Hutcheson III CGA
Richard H. and Pamela A. Barker Fund
Richard P. Laabs Endowment Fund
RIMS AVID Advised Scholarship Program Fund
Riverside Arts and Culture Donor Advised Fund in Memory of Cecile Katz
Riverside County Census Complete Count Fund
Riverside Education Enrichment Fund
Riverside Ending Homelessness Fund
Riverside Land Conservancy Fund
Riverside Museum Associates/General Support Endowment Fund
Riverside Museum Associates Heritage House Preservation Endowment Fund
Riverside Museum Associates/Rible Education Fund
Riverside Public Library Foundation Fund
Robert and Cheryl Fey Donor Advised Community Fund
Robert and Nancy Weingartner CGA
Robert B. Taylor Foundation Fund
Robin G. Thrapp Memorial Scholarship Fund
Rockefeller Philanthropy Advisors – Recession Resilience Project Grant
Ronald C. Rossi Charitable Gift Annuity
Rosemarie Cionni-Mary Pastore Educational Trust Scholarship
Roy W. Anderberg Scholarship Fund in Memory of Andrew and Betty Anderberg
Roy W. and Lucille B. Anderberg Endowment Fund
R. S. Social Justice Fund
Ruth Schroff Donor Advised Fund
San Bernardino City Library Foundation Fund
San Bernardino County Census Complete Count Fund
San Bernardino Symphony Association Fund
San Gorgonio Memorial Hospital Foundation Fund
Santa Rosa Plateau Foundation Endowment Fund
Santa Rosa Plateau Foundation Unrestricted Fund
SB County COVID-19 Resilience Fund
SBCSS Foundation Fund
Seraphim Fund
Serembe Donor Advised Endowment Fund
Sherman A. Smith and Lady F. Smith Charitable Gift Annuity – 2007
Sherman A. Smith and Lady F. Smith Charitable Gift Annuity-2015
Sherman A. Smith and Lady F. Smith Charitable Gift Annuity-2020
Shield Packaging, Chino Scholarship Fund
Significance Foundation/Torabinejad Fund
S.L. Gimbel Foundation Advised Fund
S.L. Gimbel Foundation Scholarship Fund
Social Enterprise and Entrepreneurship Fund
Society of Saint Vincent De Paul Fund
SRPF – Ellis Fund
Sue and Hillas Cole Memorial Donor Advised Fund
Takano Family Fund
Ted and Bettie Smith Family Donor Advised Fund
Ted and Jo Dutton Charitable Gift Annuity
Temecula Valley Arts Fund
Temple Beth El Legacy Fund
Terry and Sharon Bridges Charitable Gift Annuity
Terry and Sharon Bridges Charitable Gift Annuity-#2
The Arbor Fund – a Donor Advised Fund
The Bank of Hemet Donor Advised Fund
The Coachella Valley Fund
The Community Foundation Scholarship Fund
The Gladys Pedlow (Wilcox) Memorial Fund
The Hemet Lions Club Endowed Donor Advised Fund
The Here For Good Fund
The High Desert Community Foundation Endowment Fund
The James and Rebecca Malachowski Charitable Fund
The Johnson Foundation Endowed Scholarship Fund
The Joslyn Center Fund
The Katherine C. Webb Memorial Scholarship Fund
The LAAA Fund
The LaVerne Jones Legacy Fund
The Margot Fund
The Maupin Family Donor Advised Fund
The Mizell Senior Center Endowment Fund
The Pick Group Fund
The Robert A. Dailey Scholarship Fund
The Robert H. Gurr and Nancy Gurr Johnston Educational Book Fund
The Taylor Family Foundation Fund
The Theresa C. Shea Charitable Fund
The Treatment of Eating Disorders Fund
The Unforgettables Foundation Endowment Fund
Thunder Cares Fund
Tillie Ayres Fund
Todd Barajas Legacy Fund
Undesignated Gifts Fund
Upland Community Foundation Endowment Fund
Veterans Wall of Freedom Fund
Victoria Avenue Forever
Victress Bower Fund
Walt Whitman Endowment Fund
Webb Family Fund for Parity
Weingart Foundation Funders Alliance Capacity Building Fund
William and Genevieve Mason Estate Fund
William B. Brooks Memorial Scholarship Fund
William C. Hunter Family Donor Advised Fund
Willmas Charitable Trust Donor Advised Fund
Women's Giving Fund
Youth Grantmakers Committee-Coachella Valley Fund
Youth Grantmakers Committee Fund – Riverside
Youth Grantmakers Committee-Idyllwild Fund
Youth Grantmakers Committee-San Bernardino Fund
Youth Grantmakers Endowment Fund
YWCA of Riverside County Endowment Fund