The IECF Women's Giving Fund (WGF) is delighted to announce that Jennifer O'Farrell, Chief External Affairs Officer of Big Brothers Big Sisters Inland Empire (BBBS), will present the keynote address at the WGF Fall Soiree on October 15th, 2023! You won't want to miss her talk, The Gift We Are, The Gift We Give.
Jennifer was named the WGF 2023 Woman of Achievement at the fund's annual Spring Fling. Chosen for her significant contributions to the IE through leadership, innovation, impact and advocacy, she was awarded a $2,500 grant to give to the charity of her choice. In an embodiment of the attributes cited in her award, Jennifer used the funds to collaborate with another local nonprofit, Girls on the Run Riverside County (GOTR). Together they launched a five-session, weekly camp for a group of 20 BBBS mentors ("Bigs") and their mentees ("Littles"), as part of the BBBS community-based mentoring program.
At the summer camp, Bigs and Littles engaged in physical activities as well as conversations that encouraged kindness and developed leadership and social skills. From new running shoes and sports bras to journals and arts and crafts, the funding made it possible for girls to participate confidently in the summer camp experience, said GOTR Executive Director, Erin Munro. "Camp GOTR provides a one-of-a-kind opportunity for all girls to develop self-confidence and learn life skills they can use now and as they grow. Girls build friendships in an exciting and inclusive setting, including interactive games, physical activity, and expressing creativity through arts and crafts and storytelling. Led by caring and qualified Girls on the Run coaches, this program combines the best of the Girls on the Run traditional afterschool program with all the fun of a camp."
When O'Farrell first heard about GOTR, she says, "I thought how strategic and impactful it could be to have our mentoring friendships participate in this program to engage both our Little Sisters and Big Sisters. When the gift of the $2,500 was provided, I knew in that minute what it would fund!"
"This partnership celebrates our commitment to empowering young girls in the Riverside community," said Munro. "Jennifer's support allowed more girls to participate in our transformational programming, setting them up for a lifetime of meaningful connections to help them boldly pursue their dreams."
The IECF Women's Giving Fund strives to uplift women and their families through the power of collaborative philanthropy. "Jennifer's use of her grant is a beautiful example of how collaborative philanthropy can work wonders in real lives," said Nefertiti Long, IECF Board Chair and WGF Chair. "The $2,500 gift she received was extended to weave a ribbon of connectedness through the lives of 20 women and girls, and it supported the impactful work of another nonprofit. What a perfect package!"
We invite you to attend the WGF Fall Soiree on October 15th. You'll meet our 2023 grantees, share an afternoon brunch with supportive women, and hear an inspiring talk from Jennifer O'Farrell. Join us, bring a friend and register today!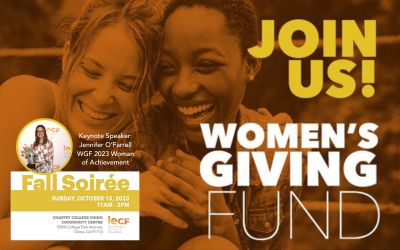 The Fall Soiree will be held at 11am on Sunday, October 15th at the Chaffey College Chino Community Center, 5890 College Park Avenue, Chino.
Stay up to date on all the news about our work, powered by philanthropy! Sign up for our monthly eNewsletter, Philanthropy Matters.