In 2022, IECF received a two-year block grant of $1.6 million through the Regional Forest and Fire Capacity (RFFC) Program. David Hernandez, IECF's Regional Forest and Fire Coordinator, is tasked with coordinating the grant to help Riverside and parts of San Bernardino increase forest and fire resilience in the face of a changing climate.
As a new member of RFFC and in its initial year of partnership with Inland Empire Resource Conservation District (IERCD), IECF was honored to host the SoCal Regional Wildfire Resilience Convening in Riverside on September 13, 2023. "This was a great opportunity for us to meet the people who are already having success with resiliency programs, and an excellent way to introduce IECF and our work in the IE to the conveners," said David Hernandez, IECF's Regional Forest and Fire Coordinator. "We all have the same concerns about minimizing fire risk in each of our locales. A collaborative approach stands to benefit our forests, our communities, and our neighbors."
In addition to IERCD in San Bernardino, partners include the Riverside/Corona Resource Conservation District (RCRCD), Irvine Ranch Conservancy, Mountains Recreation & Conservation Authority, the Resource Conservation District of Greater San Diego County, San Gabriel & Lower Los Angeles Rivers & Mountains Conservancy, and the Santa Monica Mountains Conservancy.
Attendees came from throughout California and across the United States, including Washington, Montana, Nebraska and Washington, DC. Many joined the convening to take advantage of networking opportunities and gain an understanding of what's being done in communities affected by wildfire.
One such project is SCIRP – The Southern California Ignition Reduction Program, which aims to minimize the number of wildfires started by automobiles – whether it's a broken catalytic converter or sparks from a dragging tow chain. Intervention methods include public awareness (e.g. maintain your car, pull over on dirt rather than dry, grassy areas) and forestry efforts to clear shoulders and install cable barriers.
Because fires don't adhere to city or county boundaries, Hernandez says it's important to share knowledge and combine efforts to reduce ignitions, improve water quality, and increase fire resiliency by maintaining native plant life for healthy vegetation.  The Tri-County Santa Ana Watershed Resiliency Partnership Program is a collaboration between fire prevention practitioners in San Bernardino, Riverside and Orange County. Together, they're working toward creating resiliency in the Montane Forest in San Bernardino County through Riverside County to the Cleveland National Forest in Orange County.
James Law, Habitat Restoration Services Manager for the Santa Ana Watershed Association (SAWA), and a key partner to the tri-county program, was a guest speaker at the convening. He gave an overview of SAWA's leadership role in native habitat restoration and invasive non-native plant removal. SAWA is committed to the protection and improvement of areas within the Santa Ana River Watershed, which includes portions of Riverside, San Bernardino and Orange counties.
A full slate of speakers provided resources and rich information that attendees could take back to their organizations, Fire Safety Councils and communities. Topics included Workforce Development, Fire Science, Agency Updates, Conservation Finance, Heli-torching, Fortress Fire Retardant Systems and more.
Networking time gave participants a chance to learn about funding opportunities, especially for home hardening projects and roadside ignition prevention in mountain communities. "Funding is the next step in our plan for the RFFC grant," said Hernandez. "On a small scale, we're looking at home hardening projects that will help homeowners implement vegetation management and the use of building materials to reduce damage from wildfires. On a larger scale, we will look at roadside ignition projects to prevent the spread of wildfire along roadways."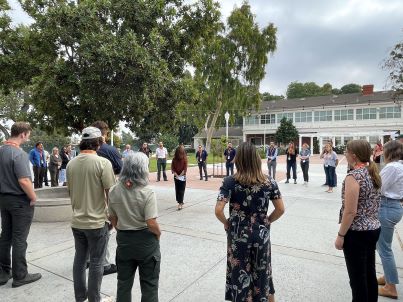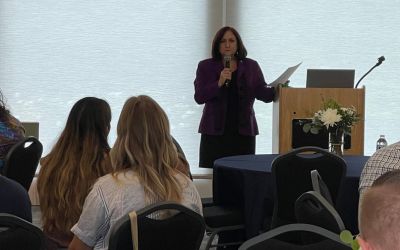 IECF thanks Mayor Patricia Lock Dawson for her support of the convening, Supervisor Karen Spiegel for her welcoming remarks, and David Shabazian, Director of CA Dept. of Conservation, for setting the stage for the day's agenda. A lifelong champion for natural resource stewardship, Shabazian commended the effort to unite a wide range of stakeholders who can share unique approaches to safeguard the ecological and economic significance of our landscapes. IECF is also grateful to the speakers and attendees who offered encouraging insight into the ongoing efforts to protect and preserve our forests and communities.
Stay up to date on all the news about our work, powered by philanthropy! Sign up for our monthly eNewsletter, Philanthropy Matters.