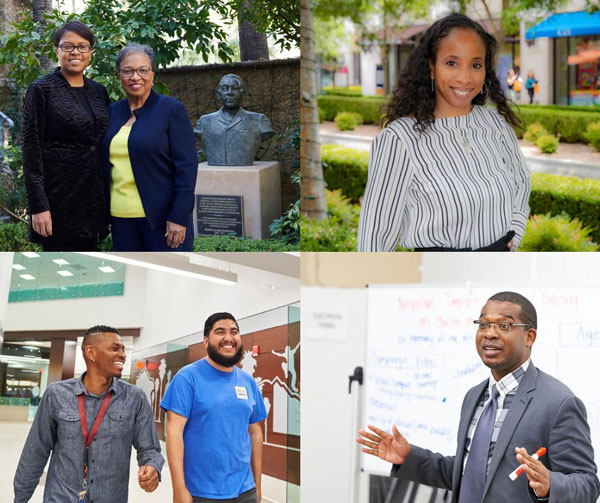 August is Black Philanthropy Month, a global celebration and campaign to elevate Black philanthropists and the impact of Black-led organizations working to strengthen Inland Empire communities. We're proud to celebrate this important month, and when it comes to giving back, here are just a few of our donors who are leading the way.
The legacy of Dr. Barnett Grier and Eleanor Grier is felt throughout Riverside. They loved people and devoted their lives to supporting and improving the quality of life for children and others. Dr. Grier served as a physicist, teacher, and civil rights activist while Eleanor was a schoolteacher who encouraged an acceptance of cultural diversity. Through a scholarship at IECF, they ensured a continued effort to provide equality in education, housing, employment, and opportunity for underrepresented and disadvantaged citizens in Riverside. In recognition of their dedicated service to others, the City of Riverside honored them by naming the roof top event venue at city hall The Grier Pavilion.
Reginald and Consuela Edmond opened the Reginald Keith Edmond II Scholarship Fund in memory of their son, Reginald K. Edmond II. Despite the tragic loss of their son in 2008 they wanted to ensure that students like him had a pathway forward. Committed to helping students reach their full potential, the Edmonds have awarded scholarships every year to students graduating from Arlington High School, and to any student participating in the region's Young Black Scholars Program.
In 2019, Dr. Ronald McCowan, MD and Barbara McCowan of Moreno Valley started the Los Angeles Adventist Academy Fund (LAAA Fund) to benefit students attending Los Angeles Adventist Academy, and for general and charitable purposes. The McCowans care passionately about supporting the academy whose mission is to provide a Christian learning environment where students build character and develop as future leaders.
Just as we're celebrating Black philanthropists from the region, IECF is proud to recognize the Black-led organizations that are advancing racial equity in the IE. These are some of the organizations who are members of the IE Black Equity Initiative which you can learn more about here.
Now philanthropy is playing a center role to ensure that Black-led organizations are supported for the long-term. Recently, the IE Funders Alliance and the Black Equity Initiative established the Black Equity Fund – a fund that will raise $5 million over two years to invest in organizations doing collective work on educational equity, criminal justice reform and civic engagement, among other issues. The Black Equity Fund is also the first-known regional pooled fund dedicated to supporting Black-led organizations and their priority issues.
To start a fund of your own, contact the Charitable Giving Team at 951.241.7777. For more information about the Black Equity Fund, visit here.