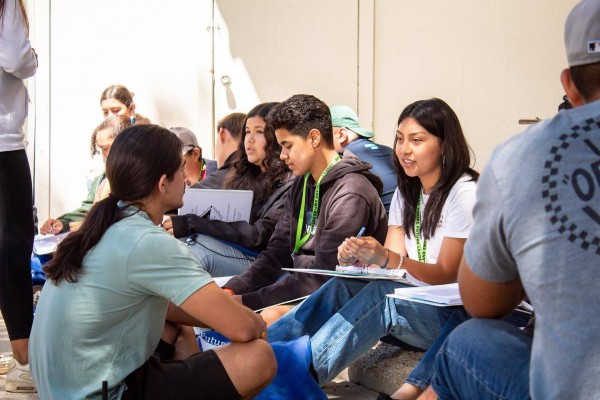 For The CIELO Fund, the sky's the limit. Literally and figuratively. The word "cielo" means "sky" in Spanish and the name itself signifies hope. And there's definitely been an increase in that over the last year.
One Year of Impressive Achievements
In September 2023, the CIELO Fund recognized its one-year anniversary with the announcement that over $1 million had been raised to support IE Latino communities! Over 200 supporters, sponsors, nonprofits and student scholars gathered for a jubilant celebration in honor of the fund's achievements. View photos of the event here.
In collaboration with Latinos Lead, a nonprofit organization that promotes more inclusive and effective civil society organizations, the CIELO Fund released a new report, Inclusive Leadership. The report analyzes Latino representation on 198 nonprofit boards in the Inland Empire. Findings highlight disparities in board diversity across sectors. For example, in Health & Human Services, 38.4% of boards had no Latino members, while Arts & Culture had 62% without Latino representation. Despite these challenges, a commitment to diversity is growing, driven by foundations and community leaders. The report sets a baseline for measuring Latino board representation and plans a follow-up in 2025, covering 1,933 boards.
Riding on an early momentum of successful fundraising, the CIELO Fund's impact has been felt in the region. It has granted $280,000 to 25 organizations, awarded $125,000 to Latino college students, published original research that further fuel its reach, and worked hard to uplift more positive narratives for Latinos in the region through partnerships with Desert Sun and the popular IE Latino Voices radio segment on KVCR/NPR.
"We are truly grateful for our donors, sponsors, and supporters who have helped the CIELO Fund raise more than $1 million dollars to invest directly into the Inland Empire's Latino community in our inaugural year," says Jesse Melgar, IECF Board Member and CIELO Fund founding chair."
Melgar went on to say that as the organization honors the incredible milestone it reached and the impact CIELO Fund has made through grantmaking, scholarships, research, and narrative change, the focus remains on creating an even brighter future filled with opportunities.
"We also know that there's work to do to continue strengthening our region which is on track to be 70 percent Latino by 2050," Melgar adds. "We look forward to continuing that work in the years to come."
Melgar has worked diligently alongside regional Latino leaders who comprise the Leadership and Grantmaking Committee. One interesting component of the work is the vast amount of research that was done, which the organization can use to plan effective strategies.
A 2022 report produced by the USC Center for Latinx and Latin American Studies, called "Se Ve! Se Siente! El Pueblo Está Presente: A Qualitative Analysis of a Region in Transition from the Perspectives of Latino Organizational Leaders," offers ideas to empower Latino communities for the future based on conversations with select Inland Empire Latino leaders.
The CIELO Fund leadership and grantmaking committee itself consists of Inland Latino leaders who live and work in the region. The $1 million raised was made possible from investments from the California Endowment, the Weingart Foundation, the James Irvine Foundation, the California Wellness Foundation, the California Healthcare Foundation, and support from dozens of corporate and institutional donors. The Fund has also been strengthened by altruistic individuals whose donations have greatly contributed to reaching the organization's first-year landmark achievement.
"This is a terrific milestone for the Inland Empire and our Latino-led nonprofits," said Brie Griset Smith, Sr. VP of Charitable Giving at IECF. "We are so appreciative of those who gave generously to support the CIELO Fund at IECF, and to our Board and leadership who created this inspiring opportunity to benefit our region. I look forward to engaging more donors to advance this important cause because by making the needs and opportunities of Latinos visible in the IE, we can close persistent equity gaps in education, health & wellness, wealth, and more."
For information about the CIELO Fund, see iegives.org/funds/cielofund/
A version of this story originally appeared in the San Bernardino Sun, September 2023.
Stay up to date on all the news about our work, powered by philanthropy! Sign up for our monthly eNewsletter, Philanthropy Matters.