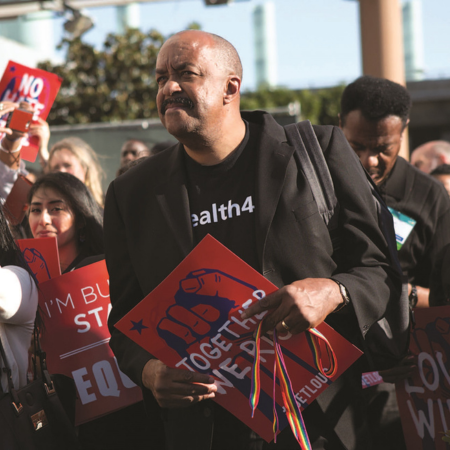 This story originally appeared in our 2022-23 Annual Report. 
When it comes to building healthy communities, Robert K. Ross, M.D., understands the importance of diversity, equity, and inclusion. As president and CEO of The California Endowment, the first foundation along with IECF to seed the IE Black Equity Fund, he recognizes that public health is an "all in" discipline, which means full inclusion. "Diversity assures that a broader array of talents, perspectives, and cultures becomes engaged in building the wellness of entire communities," he says.
Time spent working as a pediatrician at a community health center in the late '80s and early '90s was pivotal in Dr. Ross' transition from providing individual care to focusing on public health. He witnessed first-hand the devastation wrought by the crack cocaine epidemic in that era and the subsequent criminalization of Black people. "It changed my perspective as a healer and altered my career path."
Dr. Ross spent close to a decade working in the public sector in health leadership roles prior to being appointed to his current position in September 2000. "I've learned that the community is the source of wisdom in addressing health issues," he says. During his tenure at The California Endowment, Dr. Ross has provided leadership in supporting the vision of underserved communities and grassroots leaders for a healthier California and a healthier America.
"I am most proud of our investments to bring healthcare to the undocumented and mental health services to schools, and to begin closing youth prisons in our 'Schools Not Prisons' work," he says. He also takes pride in the increased exercise opportunities the Endowment's Parks for All investments realize as well as the healthier eating opportunities its FreshWorks investments afford.
When buzz surrounding IECF and the Black Equity Fund reached Dr. Ross, he felt compelled to investigate. "It felt like a movement was afoot as I heard from grantee-partners, our staff, board members, and even from other foundations." The California Endowment ultimately invested in the Fund, providing $1 million in financial support. He envisions the Black Equity Initiative IE (the collective behind the Fund) creating an ecosystem and infrastructure for Black power-building for justice in the Inland Empire.
"The Black Equity Fund asserts the principles of the mobilization of democratic voice and the deployment of capital to drive an equity and opportunity agenda for Black communities," he says. "It is God's work."
The IE Black Equity Fund advances the missions of Black-led and Black-empowering organizations through program and project support and capacity building.
Stay up-to-date on all the good work we're doing through the power of philanthropy. Sign up for our monthly eNewsletter!
.