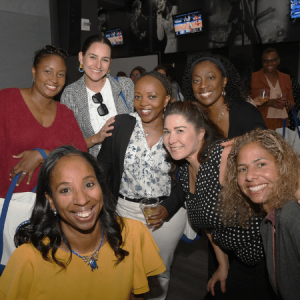 What an incredible night! On Thursday, March 24, the Women's Giving Fund (WGF) celebrated Women's History Month with their first in-person event of 2022 at the Agua Caliente Clippers game.
Women's Giving Fund Committee Chair, Nefertiti Long, opened the program with an overview of the Fund and passionately shared with guests what their collective philanthropy means for women and girls in the IE.
Long said, "We were so encouraged to see long-time supporters and many new faces at our event! The more participation we have, the greater the impact we'll be able to make as we work to ensure bright futures for the women and children of the Inland Empire."
Representatives from two grantee organizations – Society of Extraordinary Women and Time for Change Foundation – were also present and gave touching presentations about the work they're doing. "Because of your generosity, we've been able to hire part-time GIS instructors and expand our STEM program for girls," said Shirley Coates, Executive Director of Society of Extraordinary Women. "Thank you to IECF and the Women's Giving Fund for your ongoing support. It means everything to us!" Both of the groups brought along clients who shared their personal stories from the podium, too.
IECF SVP of Charitable Giving Brie Griset Smith also gave an exciting update on the many ways IECF is celebrating its 80th Anniversary and how women can get involved. The Women's Giving Fund is one of IECF's 80th Anniversary Signature Funds, with a goal of raising $80,000. To date, over $22,000 in gifts have been pledged!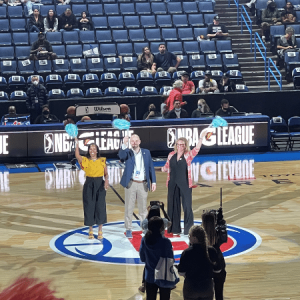 Following the presentations, the ladies headed toward their seats in a reserved section for IECF. In another highlight of the evening, Nefertiti and Brie waved to the fans from the floor as the announcer described the WGF's mission during halftime. From the game floor to the stands and even the jumbotron, WGF was on full display!
And, special thanks to our sponsors for their generous support: Agua Caliente Clippers, Alta Loma Enterprises, LLC, California State University, San Bernardino, CIRE Equity and PNC Bank.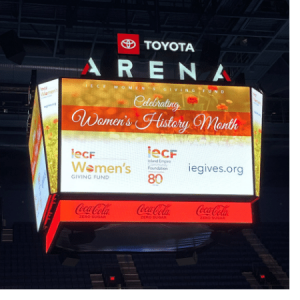 WGF is an inclusive opportunity for female donors to learn about women's economic security issues, focus giving on issues impacting women and children, and experience the power of collaborative philanthropy. Since its inception, the Fund has given $60,000 in grants to IE groups serving women and their families.
Please enjoy these photos of all the fun! For more information about the event or the Women's Giving Fund, please contact Darcy McNaboe, Regional Charitable Giving Officer, at dmcnaboe@iegives.org. Ready to make a contribution and help us lift up women and children in the IE? It's easy to donate here!