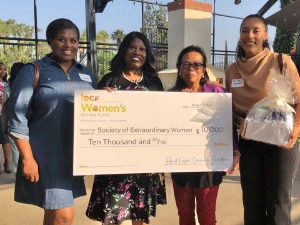 Did you know that a relatively small donation – as little as $100 – can be put to work to help women and children facing challenges to their economic security? Since 2018, women throughout the Inland Empire have been pooling their donations for just that purpose, with the resulting sum of a generous $60,000 granted to date by the Women's Giving Fund.
On August 19, 2021, the Women's Giving Fund awarded $20,000 in grants to three organizations dedicated to bringing about change.
The Society of Extraordinary Women received $10,000 to hire GIS instructors and buy software as they work to better the lives of young girls.
 A $5000 grant award to Time for Change will assist homeless women and children through the organization's Housing and Reunification Program.
Corona Life Services received $5000 for their Holistic Health Resilience Program, which offers support and education to those experiencing unplanned pregnancies.
Women's issues and supporting women's economic and social empowerment is a crucial priority for the Inland Empire. Thank you to all of the donors who have given to this fund. The Fund committee keeps the entry to this fund low to encourage more women to join together. Please consider joining the Women's Giving Fund with a gift of $100 and help us grow the 2022 available pool of funds for our IE women-serving groups. To learn more, visit https://www.iegives.org/funds/womens-giving-fund/
Darcy McNaboe, Regional Charitable Giving Officer, is happy to answer your questions at 909-477-7615 or dmcnaboe@iegives.org.