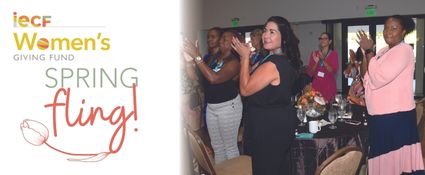 (SOLD OUT) The Women's Giving Fund (WGF) committee invites you to attend their Spring Fling on Sunday, March 26th! You'll enjoy a delightful brunch and an afternoon of camaraderie with the Inland Empire's most inspiring women as we reveal the recipient of the inaugural Woman of Achievement Award.
This award recognizes a woman who has distinguished herself in our region, in her profession, and in her community. Nefertiti Long, IECF Board Chair and Chair of the Women's Giving Fund committee said, "The honoree epitomizes the values for which Women's Giving Fund stands and represents the best of who we are as women and leaders."
The afternoon's uplifting agenda also includes presentations by former WGF grantees. You'll hear heartening stories from nonprofits that work to pave inroads for local women and children who are experiencing economic security issues.
Learn more at www.iegives.org/womensgivingfund.
With thanks to our generous sponsors:
Alta Loma Enterprises
Angel Jewelers
Dora Barilla
CSUSB
Chaffey College Foundation
Ladies That Hike IE
PNC Bank
San Bernardino Symphony
Special Angels Foundation
Stater Bros. Charities