It was a day to remember…we brunched with the IE's most generous women, awarded $30,000 to three outstanding organizations, and reached our fundraising goal of $80,000 in celebration of IECF's 80th Anniversary! Thanks so much to everyone who joined us on October 9th for the Women's Giving Fund Fall Soirée! Enjoy this preview of the photos, then click below for more.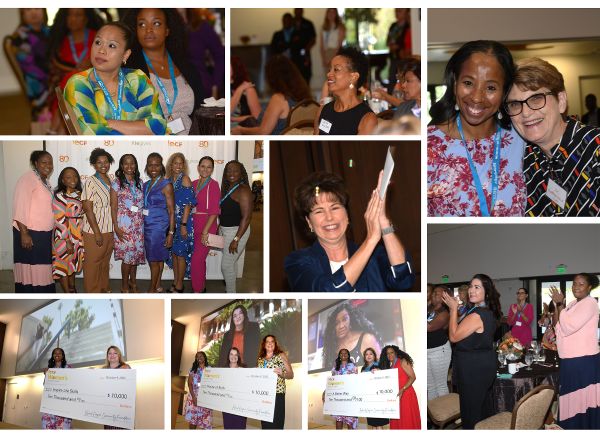 A note from Nefertiti Long and Michelle Decker about the Women's Giving Fund:
Dear friends,
Women have a fundamental right to equity in the community, workplace and at home.
But…women in the Inland Empire – particularly women of color – face significant economic and societal challenges including fewer job opportunities, wide earning gaps, political under-representation, poverty and domestic violence. We want to change that for the better.
Five years ago, a small, diverse group of female leaders realized that women's issues in the IE could only be solved if they were prioritized, and so the Women's Giving Fund (WGF) was launched. We thank the WGF Leadership and Grantmaking Committee members for shining a spotlight on the needs of women and children in our region. Because of their vision, compassion and generosity we're working to uplift the most vulnerable members of our communities as we create a better world for the next generation.
The philosophy behind the Women's Giving Fund is simple: pooled resources from individual gifts can make a lasting impact. And that's where you come in. Your combined donations enabled us to grant a record dollar amount this year, and to meet our goal of raising $80,000!
It's a privilege to partner with you in this important effort. Together we're creating a vibrant, generous, and just region for all.
With gratitude,
Nefertiti Long                                                               Michelle Decker
IECF Board Member                                                    IECF President and CEO
Chair, Women's Giving Fund
View more photos here!
Donate to the Women's Giving Fund today!
Stay up-to-date on all we're doing in the Inland Empire. Sign up for our monthly eNewsletter, Philanthropy Matters.