In celebration of its 80th Anniversary, IECF announced the launch of new Signature Funds, each of which will raise at least $80K in their inaugural year to support pressing causes and communities in the Inland Empire. IECF's youngest board member, Jesse Melgar, wasted no time stepping forward to establish the IECF's first-ever Latino-focused fund, the CIELO Fund. We're pleased to share Jesse's compelling journey that has driven his commitment to his community.
Although Jesse Melgar is 35 years old, his story begins more than 45 years ago with a brutal civil war and a young college student who fled his home country in search of safety, freedom and opportunity. The country was El Salvador, and the college student was Jesse's father, who, at the time, was studying to be a school teacher in a country plagued by violence. He met Jesse's mother, a second-generation Mexican-American seamstress at a factory making seat belts, and they relocated to the Inland Empire to raise their family, living first in San Bernardino and then settling down in Riverside.
A generation later Governor Gavin Newsom would call Jesse's story a "California story." Jesse puts a finer point on it, saying, "My story is an Inland Empire story."
Born at St. Bernardine's hospital in San Bernardino, Jesse and his family moved to Riverside's Northside neighborhood when he was eight months old. They lived on one side of a two-bedroom duplex for nearly a decade, where Jesse shared a room with his three older brothers. "You don't know what you don't know," he reflects. "It wasn't until middle school when friends would invite me over that I began to realize how different our lives were from theirs." His friends had larger homes, had their own bedrooms, and went on summer vacations.
Jesse's family is "complex and resilient," he says. He recounted that though members of his family confronted challenges, financial struggles, and his parents' divorce, they remained tight-knit. After his parents separated and remarried, Jesse lived his middle and high school years with his dad, stepmom, and stepbrother in a small apartment, and in 2002, they bought a modest two-bedroom, one-bath home in the Northside. "We were so proud to finally own our own home—even if it was only 800 square feet—it was ours and we loved it. We still do."
Despite the many challenges he faced, Jesse was focused and excelled academically. He was a GATE, honor roll, and International Baccalaureate student and he helped his family where he could. In elementary school, for example, he coached his dad on his English and quizzed him on the questions that would appear on his naturalization test.
He remembers vividly the day he accompanied his dad to the Los Angeles Convention Center when he became a U.S. citizen. About nine years old at the time, Jesse and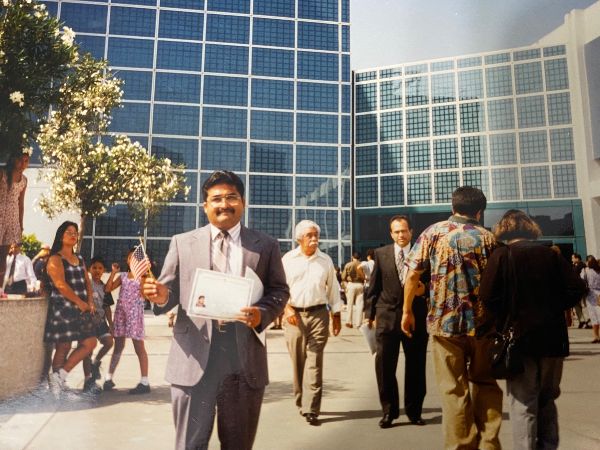 his brother were in the crowd watching and felt proud when they called out El Salvador from the stage. All of the Salvadorans becoming U.S. citizens stood and cheered, including his dad. When the event ended, "We had gotten separated from my dad for a bit in the crowd, but when we found him, he approached us, just completely beaming with pride. He was waving his little American flag. We took pictures with him, and I thought, 'This is neat.' This means a lot to my dad, and it meant a lot to me and to my family."
His father would go on to earn his GED at Riverside Unified School District's Adult School and became a frequent voter who talked with Jesse about upcoming elections. This turning point marked Jesse's first interest in government.
Jesse would turn that interest into curiosity and passion. In high school, he volunteered on several local campaigns including a community college trustee race for Jose Medina, now Riverside's Assemblyman, who Jesse considers a close friend to this day. As a senior at John W. North High School he chaired then-mayor Ron Loveridge's Youth Advisory Council as well as the Riverside County Youth Commission where he met youth advisor and then-UCR student, Steven Hernandez, who is now the mayor of Coachella.
When it came time for college, "I didn't know much about the process," he says. "But I applied to only UCs because I think it was $80 to submit one application to multiple campuses." He recalls conversations with his parents, who told him, "Well, mijo, we have about $5,000 saved up and we're going to figure out how to get you through at least the first year, and then we'll go from there."
He sought guidance from school counselors, teachers, and the staff advisor to the Mayor's Youth Advisory Council. That advisor helped him with his personal statement and she and her husband paid for him to attend an SAT prep course to improve his scores. He also applied for and ultimately secured $15,000 in community scholarships, including one from IECF (The Community Foundation at the time).
Jesse was accepted to UCLA, working multiple part-time jobs to cover expenses not covered by his scholarships. Wanting to learn about his community, he chose Chicano Studies as a second major in addition to Political Science. When he graduated in 2009 he became the first and only person in his family to graduate from college. Nearly a decade later, he would go on to receive a full-ride scholarship to earn his Masters in Public Policy as part of the inaugural cohort at UCR's School of Public Policy. His capstone project focused on proposals to expand health care to undocumented residents in California.
After graduation, Jesse moved back to Riverside, managed a few local campaigns, and accepted a job as communications manager at the Greater Riverside Chambers of Commerce. It's here where he met his husband, Angel. Intertwining his communications skills and his passion for public service and social justice, Jesse went on to serve as communications director for Equality California, the California Latino Legislative Caucus, the state senate, and Alex Padilla who is now California's first Latino United States Senator. For two and half years he also served as press secretary and communications director for Governor Gavin Newsom.
In a full-circle moment—and a memory that Jesse cherishes—he accompanied Governor Newsom to El Salvador in 2019 on a trip to examine the root causes of migration from Central America.
"It was humbling to go back to my dad's home country, the land he fled. On the flight over, I reflected and remembered being that kid sitting at the LA Convention Center some years earlier watching my dad become a citizen, and everything that led to that moment, and the moment I was in. Being in that role was bigger than me, bigger than my family. I felt a sense of responsibility to my community. It was meaningful."
Today, Jesse continues to advocate for the region that nurtured his passion. He works remotely as a senior advisor at the UC Berkeley Goldman School of Public Policy on long-term and equitable policy solutions for California's future. He serves on the board of advisors for Equality California, the UCR School of Public Policy, and the opening ceremony committee of the Civil Rights Institute of Inland Southern California. In 2021, Governor Newsom appointed Jesse to the California Volunteers Commission where he worked with the Chief Service Officer to bring millions in state funding for Inland colleges and universities through the new College Corps program. This will benefit hundreds of Inland students, many Latino, who attend the region's Hispanic Serving Institutions like UCR, Cal State San Bernardino and various community colleges.
Impressed with the leadership of IECF President and CEO Michelle Decker and Board Chair Paulette Brown-Hinds, who have been prioritizing support for hard-to-reach communities, Jesse joined the IECF Board of Directors in 2021 and sought to learn more about philanthropy and how it could be a vehicle to further improve life for families with similar stories to his. Specifically, he wondered if there was a Latino-focused regional philanthropic plan. He thought, "What's the strategy for Latinos, who are now the largest community in the county region? How can we better cultivate opportunities for Latinos in the Inland Empire?" Plans for a new Latino empowerment fund began to take shape. It would be called "CIELO," which means "sky" or "heaven" in Spanish, but also stands for Cultivating Inland Empire Latino Opportunity. Jesse and his husband made the first contribution.
"Our community is vibrant. We're business owners and workers. We're driven. We're Riversiders, San Bernardino natives, we're from Moreno Valley and Coachella. Our stories are American stories, California stories, Inland Empire stories. Our families are complex and resilient," Jesse reflected. "All of these things can be true. And it can also be true that we deserve more and better. We deserve to be at the table in a meaningful way."
The CIELO Fund, overseen by a committee of regional Latino leaders, will initiate grantmaking in 2023 with a focus on organizations in San Bernardino and Riverside counties that are led by and serve Latinos.
Who should contribute to the CIELO Fund? "Everyone!" says Jesse, "And I don't say that lightly. If you believe in our mission of uplifting and supporting Latinos – no matter what amount you can give – then we invite you. If you're doing well financially, then you. If you're a student and can't give money but can volunteer with some of these Latino-led organizations, then you."
The CIELO Fund launch party and celebration will take place on Saturday, September 24, 2022, from 6 p.m. to 8 p.m. at The Cheech Marin Center for Chicano Art & Culture of the Riverside Art Museum. For more information, visit our website.
As Jesse says, we invite you to support the fund by making a one-time or recurring donation here. For event sponsorships, please contact Brie Griset Smith, Sr. VP of Charitable Giving, at bgrisetsmith@iegives.org.
1 Preliminary analysis of the Census 2020 data by the Center for Social Innovation at UC Riverside