The nonprofit community received a huge boost in June when the Riverside County Board of Supervisors approved $5 million in financial support to organizations using CARES Act funding. From the beginning of the pandemic organizations have been increasingly stretched by higher demands for service and a reduction in revenue.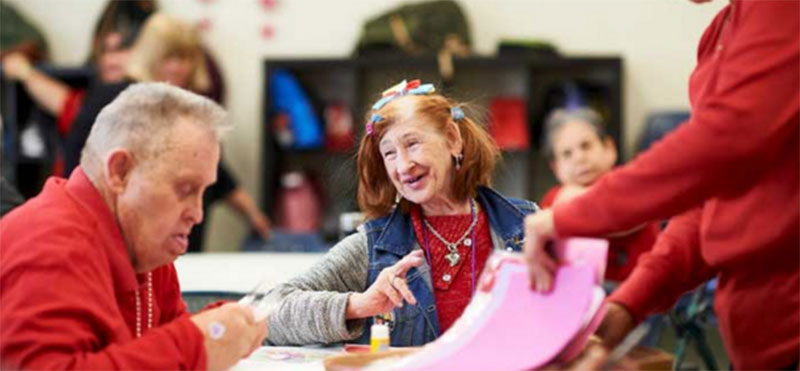 Now groups are getting help to support their operations during the COVID crisis through the Riverside County Nonprofit Assistance Fund. IECF, in partnership with the Riverside County Homeless Solutions and Workforce Department and the Inland Empire Funders Alliance, is administering the fund.
"The nonprofit community that provides direct services fills gaps that the county and other government agencies cannot meet," said Vice Chair Karen Spiegel, Second District Supervisor. "These agencies are some of the highest in-demand agencies in the county, and they need financial support to get through this pandemic, just like our businesses."
With over 7,500 organizations countywide, the new program will assist nonprofits headquartered in or who have an office in Riverside County who have experienced a loss of revenue following the COVID-19 crisis. Grants range from $2,500-$10,000 and will be awarded in late August.
Last month, IECF awarded $3.4 million in grants in the first round to the following organizations:
DISTRICT 1 GRANTEES
ABC Guidance Counseling
Assistance League Of Riverside
California Suicide Prevention Network
Care Project Inc
Central Community Christian Fellowship
Centro Del Inmigrante Inc
Christian Athletic League
Church On The Real
Circle Painting Inc
Citizens United For Resources And Environment Inc
Coachella Valley Boxing Club
Desert Tortoise Preserve Committee Inc
Fruit Of Our Hands Ministries
Girls On The Run Riverside County
Giverside
Gracious Child Development Center Inc
Helping Hands Group
Helping Our People In Elsinore Inc
Hindu Society Of Inland Empire Inc
I E Stallions
Idyllwild School Booster Club
Inland Empire Latino Lawyers Association Inc
Inland Golf Academy
Inland Valley Classic
Inlandia Institute
Jennifer Smart Foundation
Kennedie June Von Ryan Foundation
Kickfit Foundation
KREU Community Services
Lake Elsinore Girls Softball Association
Living Hope Evangelical Lutheran Church
Living Shield Ministries
Million Kids
My Learning Studio Outreach
Come Reason Ministries
Orthodox Christian Ministries Inc
Piranha Swim Team Inc
Ready Set Grow Pre-School
Rebirth Homes
Redemption Chapel Ministries
Return With Freedom Inc
Riverside Aquatics Association
Riverside Aquettes Swim Club
Riverside Community Players
Riverside Free Clinic
Riverside Life Services
Riverside Medical Clinic Charitable Foundation
Riverside Police Foundation
Santa Rosa Plateau Nature Education Foundation
"Soroptimist House Of Hope, Inc."
Southern CA Tri-Counties Branch of the International Dyslexia Association
TCARiverside
The Concerned Family
The Desert Tortoise Conservancy Inc
The Dresses And Dreams Project
The Evangelical Formosan Church
The First Christian Church Riverside
United Service Organizations Inc
Veterans Housing Alliance
West Coast Thunder
World Affairs Council Of The Desert
Youre Invited Childrens Center
DISTRICT 2 GRANTEES
"100 Mile Club, Inc."
Abc Hopes Inc
Alyden Foundation
American Legion
American Legion Post #328
Anointed Vessel Productions Inc
Aquamotion Ability Foundation
Aspire Community Housing and Economic Development Orga
Autism Society Inland Empire
Centennial High School Band Boosters
Clark Terrace
Clark Terrace II
Congregation Beth Shalom
Corona Art Association
Corona Heritage Park and Museum
Corona Life Services
Corona National Little League Inc
Corona Norco Settlement House Inc
Corona Relief Organization
Corona Rotary Foundation
Corona-Norco United Way
Crystal Roses Incorporated
Dobson Christian Preschool and Childcare
EASE T1D Type 1 Diabetes Awareness
Eastvale Bible Church
Eastvale Chamber Of Commerce
Family Media Factory Inc
Family Promise of Riverside (sponsored by Magnolia Presbyterian Church)
Fathers Help Network Inc
Foster Army Animal Rescue
Fox Riverside Theater Foundation
Friends Of Leaps & Bounds Pediatric Therapy
Friends Of The Louis Robidoux Library
Game Changers Beyond The Classroom
Graith Foundation
Greater Riverside Hispanic Chamber Of Commerce
H.E.R.E.N.C.I.A. Mariachi Academy
His Daughters House
"Inland Empire Professional Photographers and Videographers, Inc"
Inspire Life Skills Training
International Association Of Lions Clubs
Junior League Of Riverside
Latino Network
Life Source Training Institute Inc
Love Notes Alliance
Mi Familia Vota Education Fund
Mission Inn Foundation
National Ecumenical Forum For Filipino Concerns-Inland Empire
Norco Area Chamber of Commerce & Visitor Center
Norco Rotary Foundation
Parkview Legacy Foundation
"Queen Of Hearts Therapeutic Riding Center, Inc."
Ramona Dynasty Music Booster Association
Refreshing Spring Temple Church Of God In Christ
Restoration Transitional Supportive Housing Program
Riverside Arts Academy
Riverside Arts Council
Riverside Childrens Theatre
Riverside Community Arts Association
Riverside Community Sailing Program
Riverside County Bar Association
Riverside County Foundation On Aging Inc
Riverside Dickens Festival Inc
Riverside Food Systems Alliance (RFSA)
Riverside Uptown Kiwanis Charities Inc
Rotary Club of Sin Fronteras Foundation
Service Through Action
Shelter For Change Foundation Inc
Sikh Gurudwara Of Sadh Sangat
Smile Unto Him
Spanish Town Heritage Foundation
Straight Talk Program Inc
Support Sisterz
The Turning Point Church
Unidos Por La Musica
Veterans Of Foreign Wars Department Of California
William C. Arthur Terrace
William H Douglas Foundation
Women Wonder Writers
DISTRICT 3 GRANTEES
Anza Community Broadcasting
Anza Community Building Inc
Art Alliance Of Idyllwild
Aspire To Inspire Inc
Assistance League Of Temecula Valley
Boxing for Christ
Cadenza String Orchestra
California Chamber Orchestra
California Federation Of Womens Clubs
California VFW Motorcycle Club
Cause Fur Paws Inc
Center For Spiritual Living Temecula Valley
Center Therapy For Handi-Capable Equestrians
Coachella Valley Arts Institute
Community Outreach Ministry
Community Outreach of Murrieta
Community Pantry
Congregation B'nai Chaim
Cornerstone Christian Baptist Church
Cultivating Inclusion Inc
Destiny Community Resource Center
Dive Guardians Inc
Dorland Mountain Arts Colony Inc
Dwelling Place Learning Academy
Economic Development Coalition
ENCOURAGERS Counseling & Training Centers
Fine Arts Network
Friends Of The Murrieta Library
Friends Uniting Neighbors Inc
Grace & Mercy Apostolic Christian Center Inc
Green Acres Interactive Therapy Inc
Hemet Valley Art Association Inc
Historic Hemet Theatre
Human Relations Council Of The Greater Hemet San Jacinto Menifee
Idyllwild Actors Theatre
Idyllwild Help Center
Idys Helping Hands Inc
Inland Empire Mens Club
Inland Valley Symphony
Inner City Faith Fellowship
Jacobs House Inc
Kids Court & Counseling Center
Live Care Foundation Inc
Man Up To Cancer Inc
Mission Increase Inland Valleys
Mountain Communities Fire Safe Council
Murrieta Arts Council Inc
Murrieta Partnership Inc
Murrieta Rotary Foundation
MY CITY YOUTH
My Sister S Keeper Success Institute Inc
Options Opportunities-The Choice Program Inc
"Out On A Limb Animal Sanctuary, Inc."
Passion Life Church. Inc
Phoenix Patriot Foundation
Pta California Congress Of Parents Teachers & Students Inc
Pta California Congress Of Parents Teachers & Students Inc
Ramona Bowl Amphitheatre
Renewable Home Foundation Inc
Riverside Mountain Rescue Unit Inc
Rose Again Foundation
Rotary Club Of Temecula Foundation
Rotary Club Of Temecula Valley – New Generations Foundation
Safe Alternatives for Everyone
San Jacinto Mountain Community Center Inc
Set Free Christian Fellowship Of Riverside
Sigil Social Foundation
Soroptimist International Of Idyllwild
Spirit Mountain Retreat
Spirit Of Joy Community Church
Star Aquatics
Temecula Chamber Of Commerce
Temecula Educational Foundation
"Temecula Play And Learn School, Inc."
Temecula United Methodist Church
Temecula Valley Conservatory Of The Arts
Temecula Valley Girls Softballassociation
Temecula Valley Rural Lifestyles Inc
Temecula Valley Winegrowers Association
The Empowerment Center
The Jesus Christ of Nazareth Church Worldwide Inc
The Seraphim Project
Theatre Foundation
Thessalonika Family Services (dba Rancho Damacitas)
Time4college
"Trauma Intervention Programs of SW Riverside County,Inc"
Valley Resource Center
Veterans Supplemental Support Network (VSSN)
Vista Murrieta High School Band Boosters
Vladas Seeds Of Life
Vnw Circle Of Care Inc
Way Resource Center
Wine Town Rollers
Wishers And Dreamers Inc
Women Organizing Women Inc
Yokoji Zen Mountain Center
Young Idyllwild Inc
DISTRICT 4 GRANTEES
A C T For Multiple Sclerosis
AAP Food Samaritans
Academic Solutions Usa
Academy Of Musical Performance
Adult Health & Fitness Today
Advancement Collective
Alzheimers Coachella Valley
American Jazz Institute
American Outreach Foundation
Apostolic Church of Indio Food Pantry
Artifacts & Arts Across America
Artists Council
Assistance League Of Palm Springs Desert Area
Big Brothers Big Sisters Of The Desert
Blythe Chamber Of Commerce
Blythe Police Activities League
Boo2Bullying Inc.
Boys & Girls Club Of Cathedral City
Caballeros-The Gay Mens Chorus Of Palm Springs
Cabot's Pueblo Museum
California Desert Chorale
Camp Of Champions A&M Inc
Caravanserai Project
Cathedral City Senior Center
Childrens Playtime Productions
Cielo Vista Charter School Parent Teacher Group
Coachella Valley Autism Society of America
Coachella Valley Chapter of the Community Associates Institute
Coachella Valley Mounted Rangers/dba Coachella Valley Horse Rescue
Coachella Valley Symphony
Colorado River Senior Center
Create Center For The Arts
David Moore Photography
Desert Ability Center
Desert Art Center Of Coachella Valley Inc
Desert Blind Association Inc
Desert Business Association
Desert Ensemble Theatre Company
Desert Jewish Center Inc
Desert Recreation Foundation
Desert Rose Productions Inc
Desert Theaterworks
Desert Valleys Builders Association
Desert Winds Freedom Band
Desert X
Dezart Performs
Doves Landing School
Elder Love Usa
Firebrand
First Tee-Coachella Valley
Food Now
Forever Free Horse Rescue
Friends Of The College Of The Desert Library Inc
Friends Of The Desert Mountains
General Patton Memorial Inc
Genuine Animate Navigate Assist Succeed
Get In Motion Entrepreneurs
Gnostic Institute Of Anthropology
Greater Palm Springs Pride
Hadley Villas
"HARC, Inc."
Hidden Harvest Corporation
HIV+Aging Research Project Palm Springs
Integrated Learning Institute
Klise Media Group Inc
Leadership Coachella Valley
Learning Different Training
Loving All Animals Inc
Melanoma Awareness Project of the Desert Inc
Mission Veteran
Museum Of Ancient Wonders
Nami National Alliance on Mentally Illness Coachella Valley
National Gay Wedding Association
Nickerson-Rossi Dance
Old Town Artisan Studio Inc
Palm Canyon Theatre
Palm Desert Area Chamber Of Commerce
Palm Desert Swim Club
Palm Springs Chamber Of Commerce
Palm Springs Friends Of Philharmonic
Palm Springs Historical Society
Palm Springs Opera Guild Of The Desert
Palm Springs Public Library Foundation
Palm Springs Sisters Inc
Palm Springs Women In Film and Television
"Palm Springs Women's Jazz And Blues Association, Inc."
Palm Springs Young Playwrights Festival
Palo Verde College Foundation
Parkinsons Resource Organization Inc
Pdlq Youth Football Inc
Pegasus Therapeutic Riding -All Ages All Special Needs
Pet Ministry-Ps Inc
Raices Cultura
Rancho Mirage Chamber Of Commerce
Read With Me Volunteer Programs A California Nonprofit Public Benefi
S C R A P Gallery
SCORE Coachella Valley
Senior Shuttle
Shays Warriors
Socal Coyotes Inc
SongShine Foundation
ST. GARABED ARMENIAN CHURCH
Stan & Bobbie Gold RiteCare Childhood Language Center of Coachella Valley
Steinway Society Of Riverside County
Sustainable Horizons Institute
The Girlfriend Factor
The L-Fund
The Lgbt Sanctuary Palm Springs Inc
The Peacemaker Corps Association
Thousand Palms Chamber Of Commerce
Tools For Tomorrow Inc
Transgender Health And Wellness Center
Unforgettables Foundation
Union Mayombe
Unitarian Universalist Church of the Desert
United Service Organizations Inc
Variety – the Children's Charity of the Desert
Virginia Waring International Piano Competition
"Youth Kan, Inc."
DISTRICT 5 GRANTEES
American Leadership University
Axis Foundation Inc
Beaumont Community Chamber Of Commerce
Canine Support Teams Inc
Captivating The Culture
Carols Kitchen Inc
Catch A Star Theatrical Players
Centers For Spiritual Living
Cleota Youth and Women Service Center
Community Center For Healthy Minds
Community Now
Cultural Alliance Of The Pass
Dorothy Ramon Learning Center Inc
Enhance The Gift Ministries
Foundation For Better Living
Gilman Ranch Hands
Gods Harvest Church Of God In Christ
Greater Mennifee Valley Chamber Of Commerce
Healing Waters Inc
Koinonia Evangelistic Ctr
Legacy Shelters
Light Of Life Ministries Inc
Living Way Community Connection Inc
Monrovia Foundation For Haiti
Moreno Valley Chamber Of Commerce
Music Changing Lives
New Millennium Movement Inc
Nonprofit Sector Foundation
Operation Silver Star
Perris Valley Chamber Of Commerce
Perris Valley Youth Association Sports/P-Town Boxing Academy
Playhouse Bowl Association Inc
Power Speaks Louder
REACH Center IE
Remnant of Life Worship Center
San Gorgonio Memorial Hospital Foundation
Socal Family Support Services
Table Of Plenty A California Not For Profit Corporation
Union Mayombe
Unity In Christ Ministries
Village & Me
Thank you to Riverside County Board of Supervisors for your support of the nonprofit sector and we look forward to future partnerships that will prosper the region!
To learn more about the program, visit www.iegives.org/rivconnpaf.