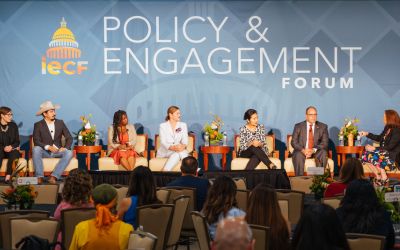 On August 9 and 10, 2023 Inland Empire Community Foundation (IECF) hosted its 3rd Annual Policy & Engagement Forum at the Riverside Convention Center. The sold-out event hosted 400 guests who gathered to gain insight from local elected officials, funders, nonprofit organizations and peers.
The Inland Empire is one of the fastest-growing metropolitan regions in the country and is home to more than 4.5 million residents. The region is projected to rise to a population beyond 7 million by 2050 with tremendous cultural and racial diversity. With this rapid growth, IECF believes that the Inland Empire needs to invest in solutions to historic issues to become a region of choice and opportunity for all residents. However, public and private investment lags significantly behind other regions and the state.
Research by the Foundation Center shows that San Bernardino and Riverside Counties receive about $31 per capita in philanthropic investments, just a fraction of the $139, $272, and $745 in Orange County, Los Angeles County, and the Bay Area, respectively.
Deepening its commitment to growing resources and influencing change that addresses inequities that contribute to some of the challenges facing the region, IECF's Board of Directors began exploring policy advocacy as a new approach for the foundation in 2018.
The annual policy forum followed soon after establishing the IECF policy and advocacy arm. In 2020, IECF identified five policy priority areas based on conversations with nonprofit partners. Focusing on these priorities areas of education equity, climate and the environment, inclusive economic development, housing and health, the 2023 policy forum featured plenary sessions, panel discussions, breakout sessions focused on each of the priority areas, working sessions and opportunities to network socially.
"Strengths exist in the region that can be leveraged to address barriers to a vibrant, prosperous, and shared future as we use this moment to create a lasting tangible difference for people in the Inland Empire region," Michelle Decker, President and CEO of IECF said. "We hope the community will continue to join with us in collaboration and partnership to advance our vision of a vibrant, generous and just region with unlimited opportunities."
On Wednesday, the opening plenary with the Inland Empire Legislative Caucus was moderated by Jacob Mejia of Pechanga Development Corp and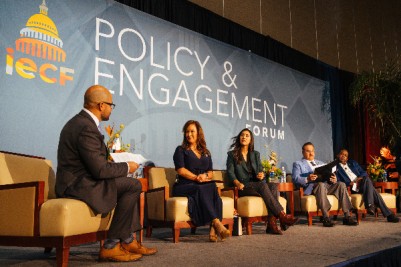 featured a discussion with Assemblymember Sabrina Cervantes, Assemblymember Corey Jackson, Assemblymember James Ramos, and Senator Rosilicie Ochoa Bogh. Answering Mejia's opening questions of, "What are the most pressing issues that the legislature should address to support the growth and prosperity of the Inland Empire? And what are your priorities in this legislative session?," the panelists cited population growth (Cervantes); homelessness (Ramos); mental health (Jackson); and infrastructure (Ochoa Bogh).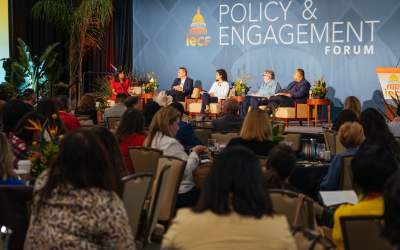 An afternoon philanthropy panel discussion was moderated by Bansree Parikh of Bank of America and featured Elena Chávez Quezada from the California Governor's Office, Max Espinoza from the Gates Foundation, Randall Lewis from Lewis Group of Companies and Jesse Melgar from the UC Berkeley Possibility Lab.
Michelle Decker moderated the closing plenary session with local elected officials Curt Hagman, San Bernardino County Supervisor; Patricia Lock Dawson, Mayor, City of Riverside; Dr. Gwen Dowdy-Rodgers, Trustee, San Bernardino County Board of Education; Armando Carmona, Councilmember, City of Jurupa Valley and Denise Davis, Councilmember, City of Redlands.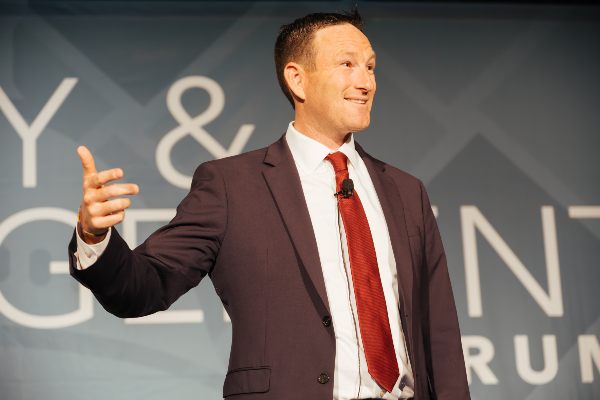 On Thursday, the forum opened with a keynote presentation by Josh Fryday, California Chief Service Officer from the Office of Governor Gavin Newsom. Fryday spoke about Belonging and Civic Engagement. "The desire to belong is a basic human need," he said, "and we must find more ways for everyone to contribute and co-create together."
Attendees also participated in group sessions where they could dive deeper into conversations about priority focus areas and topics including Advocacy and Power Building; Funding & Philanthropy; Media and Journalism; and Data and Research. Facilitated by local leaders, the small-group sessions inspired ideas, networking and roadmaps for impactful work in the year ahead.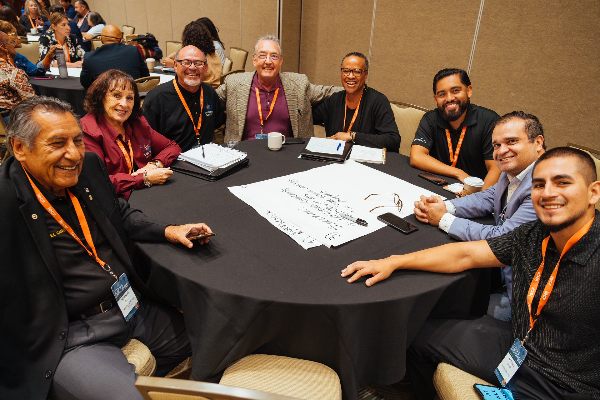 Tickets to the event were made affordable to attendees through sponsors including presenting sponsor Bill & Melinda Gates Foundation and title sponsor The James Irvine Foundation. Additional sponsors included Harbor Freight, IEHP, Kaiser Permanente, Lewis Group of Companies, Pechanga Development Corporation, Edison International, Western Wind Foundation, Wingate Foundation, Amazon, IEGO, Partners for Better Health and Varner & Brandt.
Enjoy more photos of the event here.
Stay connected to all the good work we're doing through the power of philanthropy. Subscribe to our free monthly eNewsletter, Philanthropy Matters.