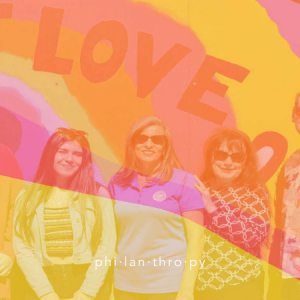 In February, hearts are filled with words of love! Our CEO, Michelle Decker, shares one word that's especially meaningful to us: Philanthropy.
February, with all the red hearts and thoughts of love, is made for those of us in the giving world. It is a constant privilege to witness the generosity and passion of so many incredible people who work with IECF – donors and nonprofits – to transform the issues that persist and cause suffering. Philanthropy means love of humanity. Great philanthropists I have met, so many in the IE, let their love guide their giving.
It's exciting to watch the evolution at IECF as we bring together our donors and our nonprofits to talk and learn together, to direct funds and consider the most impactful ideas that can make big changes. It seems that as we grow our capacity to listen and learn to each other, we grow our capacity to love, and if we are loving each other more, we are transforming the world.
While the world feels fraught on so many days, the formula for deep and lasting change always has love at its center. From all of us at IECF, our Board and staff, thank you for expressing your love in large and small ways, every day, and know we hold you in our hearts and send our love back to you!
For more stories on giving guided by love, sign up for our monthly eNewsletter!