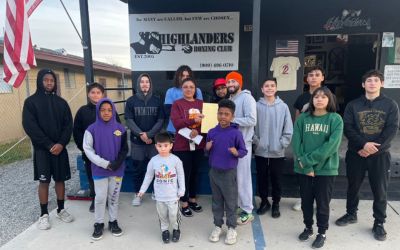 Highlanders Boxing Club (HBC) attracts youth by offering boxing instruction, but before kids get a chance to put on gloves, they have to participate in the other programming provided. In the last 18 years, HBC has grown to become a full-service youth services organization. It has also become a hub in the community of Highland where generations of participants return to help with events and to mentor youth.
"It's the boxing that draws them in, but once they get here it's the transformation that is the success," HBC's founder Tony Cifuentes said. "It's the classes and the social services we provide that transform them. They don't get to hit the bags for a month."
Many of the kids who join HBC come in with high-profile challenges. Some are recommended to the organization through the probation department. Cifuentes was much like the youth he works with and understands what it is like to make bad decisions and struggle with them. No one gave up on him. So, he won't give up on these kids, Cifuentes said. Often he sees a dramatic change in his club members within the first month.
"They start speaking and dressing differently and they have goals," Cifuentes said. "Parents write that their kids have changed, want to help others, and that their outlook and demeanor are completely different. There are so many success stories."
HBC programs focus on developing cognitive thinking skills, social and emotional wellness, academics and goal setting. While youth are given the tools to forge successful futures, they are also empowered to better their own community.
All of the club members participate in 10-15 community activities annually such as planting trees, community clean-ups and helping with health fairs. These activities teach members the value of hard work, a thriving community and introduce them to possible careers. They may not want to be a professional athlete, but Cifuentes wants to help them excel whether they become an arborist, a lawyer or a doctor.
HBC also brings in speakers from the community regularly to expose its members to different professions and discover how leaders who grew up near them forged a path to success.
Members' parents and families are also expected to participate in the activities with their children. The camaraderie between parents, kids and the organization builds stronger bonds, according to Cifuentes. Since parents are our first teachers, he feels that it is critical they are a part of the organization.
"I didn't have that opportunity and I think that's why I was a troubled youth," Cifuentes said. "We hold the parents accountable just like they hold us accountable. That way we can do this together."
Recently, Highlanders Boxing Club received a grant from the CIELO Fund through the Inland Empire Community Foundation. The organization relies on donations and grants to provide services to youth and to support its events.
On Saturday, May 20, 2023, HBC held its 8th Annual Empowering Words Cultural Event at the club. The organization welcomes sponsorships for the events to provide food and supplies for the youth attending. The May event included professionals from the community who spoke on overcoming difficult environments to achieve success. The mini-fair also included educational workshops and cultural dancers.
"I wish people would understand that anything in life is possible," Cifuentes said. "There are no bad kids, just kids who need an outlet and guidance. One of the most powerful things in this world is love and people should share that."
More information: http://www.highlandersboxingclub.org/ or (909) 496-0710
This story originally appeared in the Press Enterprise May 2023.
Learn more about the good work we're doing at IECF through the power of philanthropy. Subscribe to our free monthly eNewsletter, Philanthropy Matters.