On April 17, the Inland Empire hosted Bill Gates, co-chair of the Bill & Melinda Gates Foundation to learn about the region's successful work in post-secondary pathways and educational attainment.
Since 2020, IECF has been funded by the Bill & Melinda Gates Foundation to build a policy and advocacy arm at IECF with a special focus on educational equity and postsecondary attainment. This broadly shared regional priority recognizes that college and high-quality training access and completion are key ingredients for a vibrant and healthy community and economy. Through this funding, IECF has brought the Inland Empire's views and needs to state issues such as expanding dual enrollment, addressing childhood expulsions, and ending scholarship displacement.
Mr. Gates joined other Gates Foundation staff at host site Chaffey College. The event showed how efforts to streamline postsecondary pathways are working at the College, and the policy advocacy it took to create a supportive environment for schools to resource and implement changes.
Sharing the regional and statewide contexts for these changes, Michelle Decker, IECF's President and CEO, participated on a panel with local leaders Dr. Henry Shannon, Superintendent/President of Chaffey College, and Pastor Sam Casey, Executive Director, COPE Congregations Organized for Prophetic Engagement, as well as state leaders Eloy Oakley, former California Community Colleges chancellor and current president and CEO of the College Futures Foundation, Dr. Christopher Nellum, Executive Director, Education Trust-West, and Michele Siqueiros, President, Campaign for College Opportunity. Ms. Decker discussed the Inland Empire's diverse demographics, educational and economic landscape, and key challenges to create high quality jobs that will retain IE graduates.
The visit by Mr. Gates was the culmination of other 2023 learning events with Bill & Melinda Gates Foundation global and national staff, including an April visit by Gargee Gosh, Director of Global Policy,  and a visit in February that was supported by IECF, Growing Inland Achievement (GIA), Congregations Organized for Prophetic Engagement (COPE), and UCR's Center for Social Innovation (UCR CSI), which hosted Foundation staff exploring educational pathways strategies that support a young person's journey from K-12 into higher education and training programs.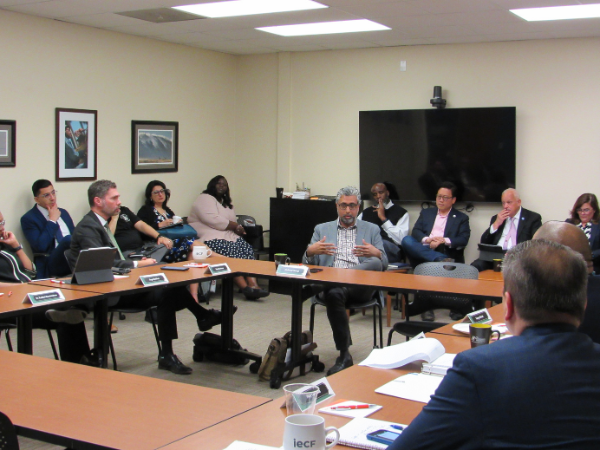 For each of these learning sessions, local leaders showed how education, workforce and economic development, and economic mobility are working together to provide student and worker success. Sharing the dynamic landscape of the Inland Empire through diverse voices, including community and Labor partners, showed the breadth of partnerships required to move educational and economic systems. The relationship between state policy and advocacy, and how policies land in the region, was also illuminated through the presence of important regional tables like Growing Inland Achievement, Inland Economic Growth and Opportunity, and state advocates like Ed Trust West and the Campaign for College Opportunity.
"Regions are the laboratories for policy change," said IECF CEO Michelle Decker. "It is wonderful that the Bill & Melinda Gates Foundation came to see what is happening on the ground – how policies are affecting our efforts – and the different voices working on student educational pathways, like our community-based organizations, higher education leaders, labor, and county offices of education."
During his visit, Bill Gates was able to visit the Cheech Marin Center for Chicano Art and Culture, with a special tour led by Cheech Marin himself.
 "A lot of eyes are on the Inland Empire because of our diversity and growth, and our need to close equity gaps. We are delighted that the Bill & Melinda Gates Foundation sees our hard work and our potential. We were honored to showcase the important collaborations underway for our students and workers, and have honest conversations about the challenges and opportunities we face together," said Decker.
Stay up-to-date on all the important work we're doing, through the power of philanthropy. Sign up for our free monthly eNewsletter today.