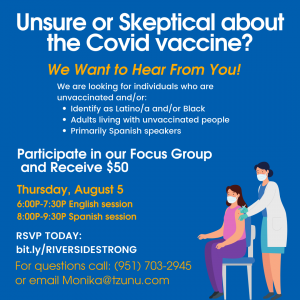 Tzunu Strategies is requesting support in identifying volunteers to participate in a focus group during the evening of Thursday, August 5, in Downtown Riverside.
The goal is to identify messaging strategies to better inform media and communications efforts that target communities of color living in Riverside County. They want to listen to the concerns, questions and feelings that unvaccinated people have regarding the COVID-19 vaccine and need your help.
Specifically, they are seeking:
• Individuals who are unvaccinated who identify as Latino/a and/or Black
• Monolingual Spanish speakers and
• Black/Latino/a adults living with unvaccinated individuals.
Participants will earn a $50 cash card for full participation (90 minutes total).
If you or someone you know qualifies and is interested please RSVP by Tuesday, August 3, today with this link!
Details:
• In-person focus group is Thursday, August 5 (location to be shared upon registration)
• English session is 6:00P-7:30P and Spanish session is 8:00P-9:30P
• Health safety measures will be in place for all participants and we therefore request participants to bring and wear their face mask during the session
For questions call: (562) 212-2664 or email Monika@tzunu.com