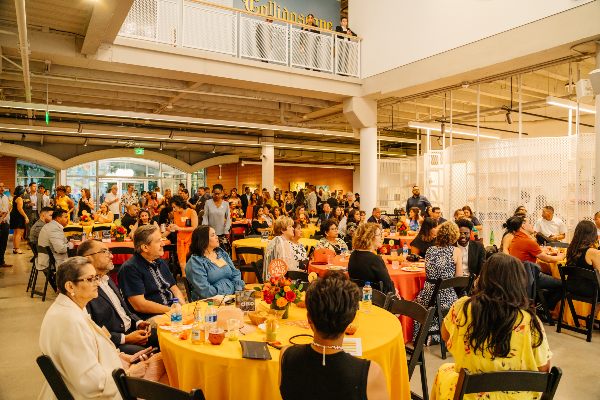 IECF celebrated Latino Heritage Month with the launch of the Cultivating Inland Empire Latino Opportunity (CIELO) Fund. One of eight signature funds IECF created this year in celebration of its 80th anniversary, the fund had a goal of raising $80,000 to uplift and invest in Riverside and San Bernardino Counties through support of Latino-led and serving organizations.
A CIELO Fund launch party was held on the evening of Saturday, September 24, 2022, at The Cheech Marin Center for Chicano Art & Culture of the Riverside Art Museum. During the standing-room-only event, over 200 guests mingled under vibrant and colorful artwork in the Sala José Jaime Medina, enjoying authentic Mexican food provided by Tacos Don Ramon and sipping signature CIELO drinks.
The program included remarks by committee members, a viewing of the official CIELO Fund video, and pre-recorded congratulatory remarks from U.S. Senator Alex Padilla;  Congressman Raul Ruiz, M.D., Congressman Pete Aguilar; and Assemblymember Sabrina Cervantes.
IECF and fund committee members were honored to receive commendations and congratulations from California State Representative Jose Medina and Assembly Majority Leader Eloise Gómez Reyes, who attended in person.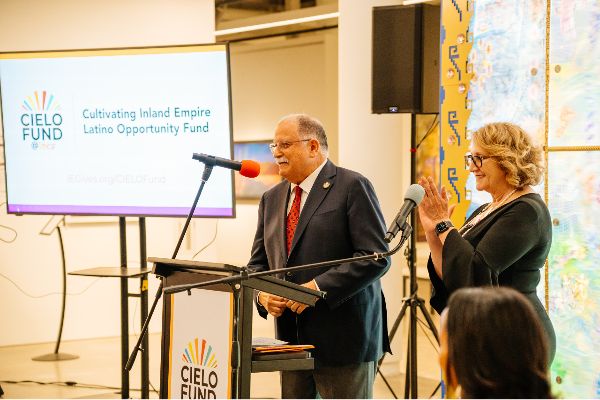 Bank of America was one of the first donors to the CIELO Fund, with a generous contribution of $10,000. Bansree Parikh, President of Bank of America Inland Empire, sent her support in a pre-recorded video, saying, "The Inland Empire's population is over 50% Latino, and we know our diversity has helped us become an economic powerhouse in the state and country. At Bank of America, we value what our diversity brings to our communities. We are proud to support the CIELO Fund that will continue to shine the spotlight on our beautiful, diverse region."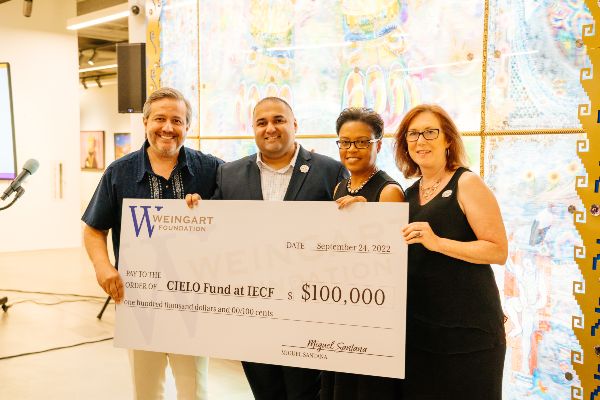 In an exhilarating cap to the evening, Miguel Santana, President and CEO of The Weingart Foundation, presented a $100,000 check to the CIELO Fund!
Closing the event, IECF Board Member and CIELO Fund Founding Chair Jesse Melgar announced that the fund had met and exceeded its goal by raising $300,000, thanks to generous support from the Weingart Foundation, Inland Empire Health Plan, Bank of America and UC Riverside, among dozens of others. The funds will support grants to be distributed in 2023.
IECF is grateful to the CIELO Fund committee for their dedication and many hours of hard work that went into creating a vision and plan for the fund. The committee includes Helen Torres; Tomás D. Morales; Diana Z. Rodriguez; Elizabeth Romero; Silvia Paz; Luz Gallegos; Angel Rodriguez; Sergio Bohon; Marisa Valdez Yeager and Marco Robles.
Luz Gallegos, Executive Director of the nonprofit TODEC Legal Center and a CIELO Fund Leadership and Grantmaking Committee member, said, "Our communities and organizations are too often overlooked when it comes to funding and that limits our ability to provide the crucial services our familias need. The CIELO Fund is being led by regional Latino leaders who understand the need firsthand and are taking action. I am proud to be part of this important effort."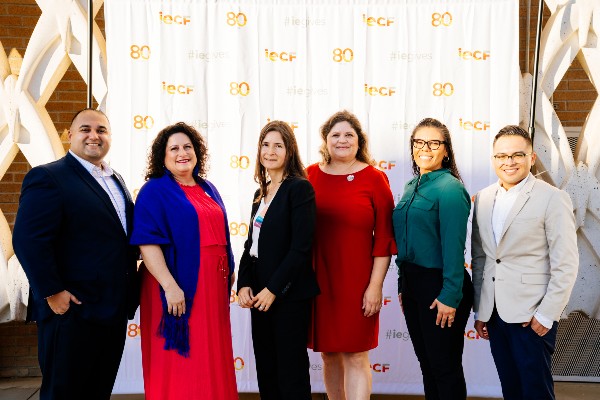 Leading up to the launch, the committee worked with UC Riverside Center for Social Innovation to publish "Aquì Estamos: A Data Profile of the Inland Empire's Latino Community." The report examines the strengths and challenges of the Latino community and will provide guidance for the CIELO Fund's grant-making initiatives.
According to Melgar, while almost 52% of the region's population is Latino, the region historically has not seen the level of investment proportional to this population. Helping underserved Latinos will help the entire community, Melgar said.
"It's been so humbling and exciting to see the momentum and it all goes back to our extraordinary leadership committee and the staff at IECF," Melgar said. "We are on to something, and the community recognizes the need for a grassroots philanthropic effort that centers and uplifts the Latino community."
While Melgar is encouraged by the Fund's initial fundraising success, he noted that there is more to raise to have a greater impact. Those wishing to support the fund can find more information and give through the Fund's page. Melgar also hopes the community will help spread the word to organizations of which they may not yet be aware when the call for grant applications goes out later this year.
"Donate whatever you can at any level because there is power in the number of people who give, not just in the amount," Melgar said. "As the Latino community in the Inland Empire grows, so should investments in the frontline organizations providing critical resources and support to our families daily."
Stay up-to-date on the good work IECF is doing through the power of philanthropy. Sign up for our monthly eNewsletter, Philanthropy Matters.