As part of Women's History month, IECF is highlighting two of our donors, Carol Newkirk and Beverly Rashidd. Both women spent their careers championing women's rights and fostering opportunities for equity, inclusion, and diversity. Now they've taken steps to ensure their legacy lives on.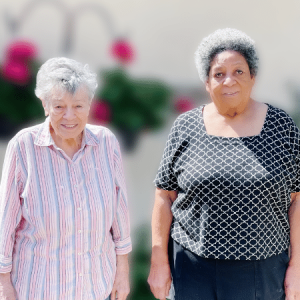 Right time, right place, right people – that's how Carol Newkirk and Beverly Rashidd describe their involvement in the early efforts of the civil rights and women's rights movements. While their careers began in different parts of the country, their paths eventually intersected at the Young Women's Christian Association (YWCA) in San Francisco in the early 1970s where the two women became colleagues and friends. Today, they share a home in the retirement community of Sun Lakes Country Club in Banning, but their activism carries on.
We recently sat down with Carol and Beverly to learn about their history and their plans to entrust IECF with a testamentary gift establishing the Newkirk/Rashidd Endowment Fund. The Fund will primarily award scholarships to African American and Afro-Latina women from the San Gorgonio Pass Area who are interested in a career in the arts.
Carol and Beverly both began their careers during the advent of the civil rights and women's rights movements. Carol served as Executive Director for several Young Women's Christian Association (YWCA) locations, spending the last decade of her 20-year career with the YWCA in San Francisco.
"I'm an organizer," she said, "I've always been able to pull together people and resources and tackle big projects." Her skills benefited a senior program, a domestic violence program, and a women's health clinic. She is most proud of her work in converting the San Francisco YWCA Residence Club into a much-needed senior housing project, which also offered educational and social services.
Beverly became involved in the civil rights movement, serving as director of the Bruce Klunder Freedom House in Cleveland and then as Project Director and Branch Executive of the Cleveland Metropolitan YWCA. Later, she worked with the interfaith Housing Corporation to develop the first nonprofit, low-income housing in Cleveland.
In 1973 she was named the first Black woman to hold the position of executive director at the Bridgeport, Connecticut YWCA, and the first-ever in Connecticut.  "This was during the time the YWCA's mission was shifting towards social justice. In 1970 they adopted The One Imperative: 'the elimination of racism wherever it exists, by any means necessary.'"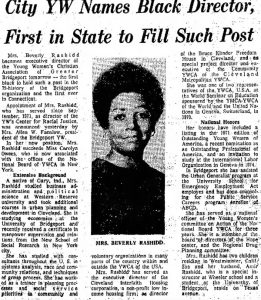 Beverly went on to work with Carol at the YWCA in San Francisco before accepting positions with Make- A-Wish Foundation and American Red Cross. Carol was engaged by the San Francisco Management Center and loaned out to struggling nonprofits to assist them with capacity building efforts as an interim Executive Director.
While dedicating their careers to advocacy and the advancement of opportunities for women, they spent their leisure time in appreciation of the arts. In high school, Carol was active in the theater. She says, "When I worked in San Francisco as an adult, I became fascinated and enriched by the many displays of art – visual and theater. I started buying art to have in my home and enjoy."
Beverly was a child prodigy who, at the age of 5, gave her first piano recital of 14 pieces in a small room in Chicago's Orchestral Hall. She played violin in the Gary, Indiana citywide youth orchestra, and today is teaching herself to play guitar.
When they moved to Banning in 2000, Carol and Beverly knew they wanted to help expand the cultural offerings of their new community. In 2006, they co-founded the Banning Cultural Alliance, which has held art festivals, sponsored exhibits, and revitalized the community's cultural identity. In 2007, Beverly and a small group of theater enthusiasts founded a community theater, Pass Area Performing Artists, as a program of The Alliance, which has offered high-quality stage productions featuring local artists.
Today, they've transitioned out of those roles. Beverly is focused on a new project representing Sun Lakes in an effort to prevent the building of warehouses nearby. Carol was involved in the women's golf charity she helped to found. The Sun Lakes Women 4 Hope Golf Tournament has raised over $100,000 to help support the Banning High School Girls Golf Team, the Mount San Jacinto Community College Woman's Golf Team, and the Soroptimist House of Hope.
As they thought about the future, it was only natural for Carol and Beverly to include women and the arts in their estate plans. "Fortunately, our families don't need our money," Beverly said, "So we wanted to find a way for our funds to continue to make a difference in a meaningful way."
Because of their nonprofit experience, Carol and Beverly understand the philosophy of having an experienced organization manage funds on their behalf. Through conversations with IECF, they've decided to establish the Newkirk/Rashidd Endowment Scholarship Fund.
"The arts are important to us, and we're specifically interested in helping those who don't have access to arts in the same way other people do. The population we want to uplift is representative of the two of us. It addresses the inequities and lack of access that is part of our society."
What are their hopes for the young women who will receive scholarships? "Our fund will be established in perpetuity," said Beverly. "We know that today women face inequities, but we look forward to a future when our money is used in a world where people don't have to have these conversations."
Beverly and Carol offered some parting words of wisdom for the young women their funds will support. "Don't be duped," says Beverly, "You absolutely have what it takes to be successful." Carol adds, "It's time to step beyond your dreams and start fulfilling them."
At IECF, it's our privilege to help our donors realize their visions for a brighter future in the Inland Empire. If you would like information on establishing a fund or donating to a cause you care about, please contact Jose Marquez, CSPG, Director of Planned Giving at jmarquez@iegives.org.