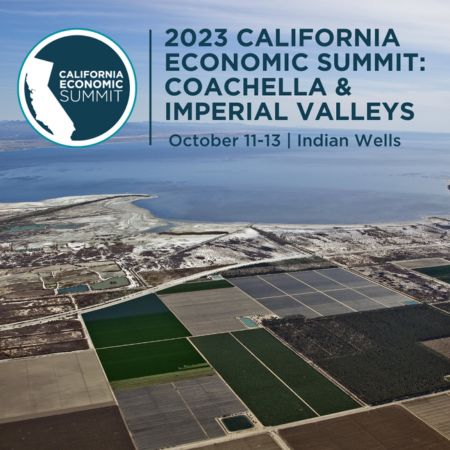 Inland Empire leaders and the Inland Empire Community Foundation (IECF) will participate in the 2023 California Economic Summit, which takes place Oct. 11-13 in Indian Wells. This year's summit is produced by California Forward (CA FWD) in partnership with members of its California Stewardship Network.
This marks the 12th annual gathering of the noteworthy event, which finds leaders from across the state's diverse regions meeting to spark thoughts and potential actions plans that will further build an inclusive and sustainable economy where all Californians can prosper. Thus far, 25 percent of summit registrants are from the Inland Empire, including IECF, CSUSB, Inland Empire Economic Partnership, Riverside Community College District, City of Rialto, and Riverside Arts Council.
"The summit has historically gone to places that are emerging in California, maybe those that aren't on tops of people's minds, but are places that have amazing things happening." says Michelle Decker, President/CEO of IECF. "These are areas where coalitions and groups of people are really coming together and doing big things. And that's what's happening right now in the Inland Empire and in Coachella Valley."
She quickly pointed out some of the region's highlights—energy booms, lithium, the Salton Sea, and the work advocates here, such as Lift to Rise and its advancing in funding for housing. She also noted the Inland Empire/Coachella's unique connection to the Imperial Valley.
At the Summit, Decker will represent IECF in a dynamic panel discussion called "Resilient and Productive Landscapes," slated for mid-morning Oct. 12. The panel will discuss the vital issue of meeting climate goals by promoting forest health, water sustainability, and landscape resilience.
"When we look at resilient landscapes, we have to look at Southern California and the Inland Empire where even with our ecosystems have really high risk for wildfires and high risk for many people being impacted," she said of the panel. "What's so great about the Summit is that it's really a partnership between the state and the regions, and California Forward helps make that happen. It becomes our statewide framework and voice, but it's that regional action and the variations across the regions that make for such an interesting conversation. So, when we're doing this regional forest and fire capacity conversation, the state is in the room with us."
At the forefront of the talk is creating an evidence-driven basis for ensuring investments in wildfire and forest resilience solutions that match the size and scale of the crisis is a key component of this panel. One of the significant topics to be addressed includes the implementation of a statewide biomass utilization strategy, and broadening outreach and coalition-building across diverse communities, sectors and lands.
Regional co-hosts of this year's event include: Conrado Bárzaga, CEO of Desert Healthcare District and Foundation; Tim Kelley, President and CEO of Imperial Valley Economic Development Corporation; Luis Olmedo, Executive Director of Comite Civico del Valle; Silvia Paz, Executive Director of Alianza Coachella Valley; and Heather Vaikona, President and CEO of Lift to Rise.
In addition to Decker, other inland Empire leaders expected to speak this year include Assemblymen Greg Wallis and Eduardo Garcia, Senator Steven Padilla, and Jarrod McNaughthon, CEO of Inland Empire Health Plan.
Highly anticipated state speakers include: Lieutenant Governor Eleni Kounalakis; Gayle Miller, Senior Counselor to the Governor on Infrastructure and Clean Energy; Dee Dee Myers, Director of the Governor's Office of Business and Economic Development (GO-Biz); and Stewart Knox, Secretary of the California Labor and Workforce Development Agency.
This year's keynote speaker is William Eggers, co-author of "Bridgebuilders: How Government Can Transcend Boundaries To Solve Big Problems."
Of last year's summit, Gov. Gavin Newsom, honorary Summit co-chair, said: "Change is difficult, but we're in the change business and California has long been in the future business. The future happens here first. We're America's coming attraction. The world looks to us for leadership, entrepreneurial energy."
To be sure, that change becomes possible through participation of various sectors, industries, community groups, and state leaders who attend the summit every year. The work of these groups and individuals generates lasting impact for years to come.
Previous summits have generated the following advancements:
$600 million Community Economic Resilience Fund (CERF)
$6 billion in broadband budget funding
Nearly $1.5 billion investment in wildfire resilience
Initial $500 million for the California Dream For All homeownership program
Nearly $1.5 billion for the Strong Workforce Program and workforce development reforms
With the Summit taking place in the heart of Inland Empire, noteworthy discussions with local ties will stand out. One of them, slated for a second plenary on Oct. 12, aims to look at some the more dynamic infrastructure projects underway and ones that are heading down the pike in the Inland Empire. It features Trelynd Bradley, Deputy Director of Sustainable Freight and Supply Chain Development at GO-Biz.
Paul Granillo of the Inland Empire is also scheduled to moderate a session called, "Creating a Roadmap to Shared Equity in the Region" during the "Special Plenary with Elected Officials" on Oct. 13.
Two new working sessions filter into the mix: "Advancing Manufacturing" and "Accelerating Infrastructure." California Forward will eye this year's advancements, particularly as they pertain to housing and homeownership, economic prosperity in a changing climate, the creative economy, and much more.
Beyond these keynote speakers and working sessions, one of the defining features of the Summit is that a different region within California hosts the event each year. This allows the host region an opportunity to make a significant impact on attendees. To that end, attendees may appreciate the regional tours offered this year, which include tours focused on Lithium Valley, healthcare in the region, and local agriculture.
Other standout tours include The Agua Caliente Band of Cahuilla Indians Indian Canyons Tour, an immersive outing to the ancestral home of the Agua Caliente people. It features a one-mile loop hiking tour of Andreas Canyon, and a visit to Palm Canyon, among other highlights. Additionally, there is The Frontline and Colonia Communities of the Salton Sea tour, an illuminating opportunity to listen and learn directly from the people who live in and call the Imperial Valley home.
"We need the Summit, California needs it, the country needs it, and this is where we have that conversation," Decker notes. "We do it from grassroots to grass tops."
Learn more about the 2023 California Economic Summit at cafwd.org/2023summit.
This story originally appeared in the Press Enterprise, October 2023.
Stay up to date on all the good we're doing through the power of philanthropy. Sign up for our free monthly eNewsletter, Philanthropy Matters.