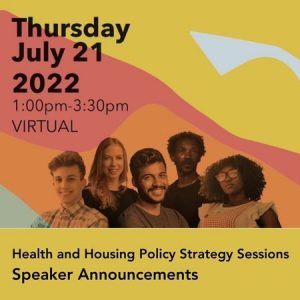 Join IECF for our 2nd Annual Policy & Engagement Forum on July 21, 2022! This virtual event will bring together the region's influential leaders, innovators, and change-makers around IECF's five policy priority areas: Education Equity, Inclusive Economic Development, Housing, Health, and the Environment.  
We are pleased to announce our guest speakers for the Health and Housing Policy Strategy Sessions:
Health Policy Strategy Session
Angelica Baltazar, President, Inland Empire Health Plan Foundation (Moderator)
Kim Sarawutari, Director of Public Health, Riverside University Health System
Diana Fox, Executive Director, Reach Out
Felicia Jones, Associate Director, Congregations Organized for Prophetic Engagement
Housing Policy Strategy Session
Jenna Hornstock, Deputy Director of Planning, Southern California Association of Governments
Clemente Mojica, President & CEO, Neighborhood Partnership Housing Services, Inc.
Ian Gabriel, Director of Data Policy & Planning, Lift to Rise
Gregory Bradbard, Senior Vice President of Social Impact, National CORE; President, Hope Through Housing Foundation
The Policy & Engagement Forum will focus on embracing and practicing collaboration, uplifting transformative work that has already left its mark across the Inland Empire, and envisioning new actions to further the region's trajectory of growth, diversity, and innovation.
Be a part of the conversation as we engage community stakeholders, elected officials, and investors about big policy priorities while brainstorming on how the Inland Empire will capture the resources, public and private, to address some of the most critical issues facing this region. We are inspired to think big and long-term with you to prepare for the IE's growth.
Register today, and please share this event with your network. For more information, contact Julian Cuevas, Director of Policy & Governmental Affairs at jcuevas@iegives.org.