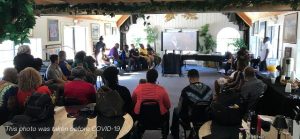 Investing in racial equity for the Inland Empire is a commitment more and more funders are making. In two major developments, IECF is proud to announce that The James Irvine Foundation approved a two-year grant of $1 million for the IE Black Equity Fund. The California Endowment has also invested in the Fund, providing another $1 million in financial support!
The Inland Empire Black Equity Initiative made more big strides towards its goal of raising $5 million by 2022. So far the pooled fund has raised over $2 million, with recent grants from the Weingart Foundation ($400,000) and Inland Empire Health Plan ($50,000). The fund is designed to invest in Black-led organizations and their solutions for Black youth and families across the Inland Empire.
This is significant for the IE, where leaders of color need more investment to address inequities, but also have amazing solutions that, if funded, will make tremendous impact in our region," said Dr. Paulette Brown-Hinds, IECF Board Chair.
IECF is one of six grantees the Irvine Foundation is supporting to end anti-Black racism and advance racial equity in California.
The IE Black Equity Fund was formed by the Black Equity Initiative of the Inland Empire (BEI), in partnership with IE Funders Alliance and IECF. It's the first, regional pooled fund of its kind in the region and has a fundraising goal of $5 million over two years.
For more information about the fund, or if you would like to make a gift, please visit www.iegives.org/ieblackequityfund or the Black Equity Initiative at blackequity.org.