A Riverside icon shares how tough times taught her to give to others.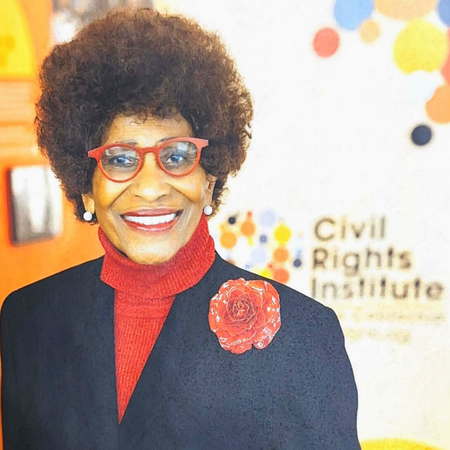 In honor of January's Martin Luther King, Jr. Day and February's Black History Month, we're pleased to share the story of one of IECF's long-time supporters and a legacy donor, Rose Mayes. Much has already been written about Ms. Mayes – it takes but a minute in a Google search to gain an understanding of her deep impact on the city of Riverside, and if you've ever been in downtown Riverside you've been touched by her influence, whether you realized it or not.
Rose, an almost-octogenarian, has devoted over 30 years of her life to community activism and social justice in our region. Since 1993, she's served as executive director of the Fair Housing Council of Riverside County, which seeks to combat housing discrimination and serves as a nationally recognized model by the Department of Housing and Urban Development and National Fair Housing Alliance. Rose's vision of a permanent symbol of "Justice for All" resulted in the erection of the Martin Luther King, Jr. statue on Ninth Street. The recent opening of The Civil Rights Institute of Inland Southern California, along with new offices for the Fair Housing Council of Riverside County, marks just one more lifetime achievement for this resolute and determined visionary.
In 2000, Rose established the Dr. Barnett Grier and Eleanor Jean Grier Scholarship Fund at IECF. The fund honors the Grier's efforts to ensure equality in education, housing, employment, and opportunity for underrepresented and disadvantaged citizens in Riverside. As a board member of the Riverside African-American Historical Society, Rose was a founder of the Eleanor Jean Grier Leadership Academy in 2005, which offers training and leadership development for people from under-represented groups. In testimony to her ability to provide in-the-moment resources through long-term planning, the Civil Rights Institute, two scholarship funds and the MLK statue are all supported by funds from the annual Martin Luther King walkathon, launched in 1995 under Rose's guidance.
As an involved community member, Rose became familiar with IECF and our mission. She was sure of the Foundation's ability to handle her dear friends', the Griers, legacy through management of the scholarship fund. We're honored to know that, in a personal vote of confidence, Rose has named IECF as a beneficiary in her will.
This brief resume offers just a glimpse of the deep moral conviction that guides Rose to look out for others and pursue a greater good for all. Rose attributes her life's work to the values instilled in her by her parents, Mr. and Mrs. Roosevelt Green, who raised a family of 14 children – seven boys and seven girls. "We did not discriminate," Rose laughs at the even distribution of genders.
At the age of nine, Rose joined her father and siblings in the cotton, corn and sugarcane fields of Louisiana. Their work day began at 4:00 am and ended at 3:30 in the afternoon. "We knew that we had each other," Rose says, "and if one of us ever fell behind, the others would pick enough cotton or pull corn or cut cane to make sure that every bag was full at the end of the day." She says this taught her at an early age to find satisfaction in reaching back to help others.
The pursuit of education was a primary focus for the family. "School started in September, but we didn't join classes until November because we worked in the fields. Our grades never suffered, though, because our parents made sure we prioritized education over everything else. They wanted us to have a better life, and education was the ticket."
The Green family moved to Houston, Texas. As Rose says, "It was still the South, but it was better than Louisiana. We lived in segregated housing, but we had electricity and indoor plumbing." As a teenager, Rose wanted to participate in after-school activities like cheerleading and band, but her work ethic took precedence. "I had a responsibility to my family," she says. "We all did what we could to put food on the table and support my siblings who were going to community college."
Rose finished high school while also working as a waitress in a Black-owned café in the "white part of town." It was the early 1960s, and she got her first taste of activism as a waitress, where she would help feed people who were participating in marches and demonstrations. She listened to the black patrons' stories of having to enter restaurants through the back door to be served, and she saw many of them come in drenched from water hosings. Ironically, Rose also saw many white patrons give money to the café's owner to make sure he could feed all of the activists.
Rose eventually moved to California to be near siblings; she married and had a daughter, Yvette. The marriage was short-lived, but Rose worked three jobs to retain custody of her daughter. Eventually, she purchased one of the businesses she'd been working for, a record store. After expanding to two stores, she attempted to open a third in a shopping center but was turned down by the owner of the mall who refused to rent to a Black woman. A friend and colleague – a white woman – came to Rose's assistance and procured the lease for her. As she says, "The rest is history. I stayed there until I was ready to leave on my own terms."
Later, Rose opened a print shop and postal service in Riverside while attending University of Redlands, where she obtained her MBA. "Two or three jobs was nothing for me," she says. "I was working hard, going to school, but I was missing the satisfaction of helping people." She began to volunteer at the Fair Housing Council of Riverside County, and that was the beginning of a long, fulfilling chapter.
At one point during her days as a volunteer, Rose walked into the office and found everyone "sitting around doing nothing." They explained that their phones had been shut off due to a lack of payment while the executive director was out of town. Rose headed to the phone company, provided a personal check as collateral with a promise of payment the next Monday, then followed up to make good on the promise. A board member came down to her print shop soon after with a job offer. Rose has been with the Fair Housing Council ever since.
"I love it!" Rose says with her signature enthusiasm. "We've seen difficult times, but that's okay. It gives you strength and determination, and most importantly, the satisfaction of knowing you can speak up and help others. That's a feeling that all the money in the world can't buy."
When asked about significant highlights of her career, Rose replies without hesitation, "I will never forget the foreclosure crisis in 2007. I saw investors coming in and building homes, then selling them to individuals with low to moderate incomes who couldn't afford them. We focused on outreach and education, encouraging these people to come to our first-time homebuyers' workshop. And then our phones began to ring. Where we had seen 100 calls daily, we began to receive 200 to 300 calls daily from people who were facing foreclosure."
Rose approached HUD and sounded the alarm, explaining the crisis they were already seeing, but she was met with skepticism. She decided to hold a conference, inviting local leaders, city managers, mayors, council members and County Supervisors as well as community members facing foreclosure. "It was 6:00 on a Saturday morning and there were over 100 people in line to talk to the government officials. That's when they understood it was a crisis. But we had to show them before they believed us."
Today, Rose sees rental assistance and homelessness as priorities. She also serves on the board of Riverside's new Civil Rights Institute, which she worked tirelessly with city and state officials and other community members for over 23 years to bring to fruition. "The load got pretty heavy at times, but all these people kept encouraging me to keep going." Rose tells us that the collaboration between the Fair Housing Council and the Civil Rights Institute is the first of its kind. "We have a shared mission of social justice," she says.
And her vision for the next decade? "Passing the baton to the next generation," Rose says. "Being courageous. Speaking up for what is right, making sure everyone has an opportunity to live up to their dreams. My hope is that one day, I'll be able to look back and say that's what it was all about. Passing through and passing it on."
You, too, can create a legacy that helps people achieve their dreams. Contact our Charitable Giving Team to learn more about options for planned giving. Email giving@iegives.org