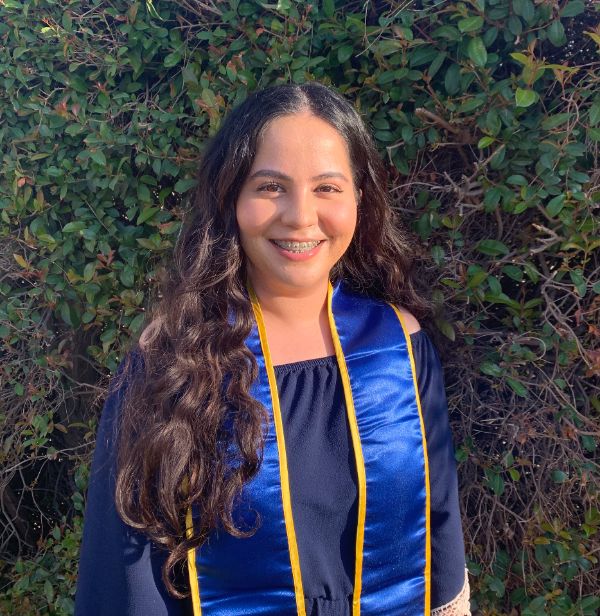 Since 1941, we've emphasized the importance of helping scholars reach their goals. We know that education, both two-year and four-year, changes the earning power of families and supports diverse leadership in our communities. What began with Charles Brouse's endowment to benefit students at Riverside City College now totals a distribution of almost $1M annually in educational scholarships benefiting students at every public college and university in the two-county region, as well as colleges and universities across the nation.
In celebration of National Scholarship Month, we're pleased to introduce you to Rocio Robles, one of our 2022-2023 Gimbel Scholarship recipients. Rocio took time out of her very busy schedule to share an update:
IECF: Where are you going to school?
Rocio: I am currently attending California State University, Dominguez Hills' Post Baccalaureate Clinical Lab Science program in Carson, CA.
IECF: Why was this scholarship important to you?
Rocio: I am honored to receive the Gimbel scholarship; it truly means so much to me. This scholarship has lifted a huge weight off my shoulders and helped me focus on my studies without worrying about how I will finance my higher education. It motivates me to do better for myself, my friends and family who always support my dreams, and the community that has provided me with this scholarship. I am so grateful.
IECF: Tell us about your studies.
Rocio: After obtaining my B.S. in Biochemistry at University of California Riverside, I decided to further that concentration and go into the field of Clinical Lab Science (CLS) at one of the area's most recognized CLS programs.
IECF: Tell us about your major and why you selected that field of study.
Rocio: While many people don't know what a CLS is or does, I like to explain it as the scientists responsible for testing your blood and other bodily fluids when doctors order blood work/studies. Throughout my undergraduate studies, I found a real passion for human biochemistry and lab work in general. That passion for lab science, along with my desire to help people, propelled me into this field.
IECF: What would be your ideal job after graduation? Where would that job be located, and why?
Rocio: After graduation, I'd love to work as a Clinical Lab Scientist in a hospital setting. Ideally, I'd like to work in Riverside, the community that has watched me grow and has given me so much support over the years.
IECF: What does community mean to you? Have you been involved in any community service projects?
Rocio: Community is so important wherever one goes. Getting involved can be difficult when first moving away from home. However, I know how important it is to give back and have gotten involved in clubs on campus that give back to the community. Just recently, I volunteered at a blood drive on campus in collaboration with Cedars-Sinai to help aid in the blood shortage we're currently facing.
IECF: What changes for the good do you hope to see in the world during your lifetime?
Rocio: Going into healthcare, I hope to provide quality care to patients and aid in their diagnosing and treatment to facilitate a prompt recovery. Individual health is so important to creating healthy communities. I hope that one day everyone can have access to quality healthcare regardless of their socioeconomic background to ensure a better quality of life for all.
IECF: Thank you, Rocio! We can't wait to hear the rest of your story!
At IECF, we're grateful to our many donors who have established or contributed to the scholarship funds we manage. If you'd like to make a lasting impact on the world, change the lives of local students and leave a personal legacy, our Charitable Giving Team is here to answer your questions about setting up a fund. Email giving@iegives.org to learn more.
Stay up-to-date on the good work IECF is doing through the power of philanthropy. Sign up for our monthly eNewsletter, Philanthropy Matters.