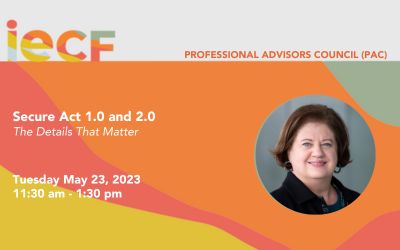 Register today for IECF's next Professional Advisors Council (PAC) meeting!
We are pleased to welcome Mary "Kit" Mac Nee, CFP®, CRPC®, QPFC®, as our guest speaker.
Topic: Secure Act 1.0 and 2.0 – The Details That Matter
Date:  Tuesday, May 23, 2023
Time: 11:30 am – 1:00 pm
This will be a virtual event.
Kit will provide an overview of Secure Act 1.0 and 2.0 to help you effectively advise your clients about their retirement planning, savings and charitable giving.
She'll answer questions your clients may ask, such as:
What do I need to change in my plans?
What can a business owner take advantage of to lower expenses?
What can I do with the $1M IRA I don't need from my mother?
What does my grandchild who didn't use their 529 Plan do?
If you haven't reviewed the new Secure Act 2.0 legislation, here are just a few changes: 
Increases the Required Minimum Distribution (RMD) age for IRA withdrawals
Adjusts for inflation the $100K annual limit on direct gifts to qualified charities from your clients' IRAs starting in 2024 (IRA Rollover)
Allows for a one-time gift of up to $50K from an IRA to fund a life-income gift, such as a Charitable Gift Annuity (CGA) or Charitable Remainder Trust (CRT)
You'll leave the meeting with great information to help you better serve your clients' planning needs.
About our presenter:
Kit Mac Nee joined Morgan Stanley as a Financial Advisor in 2013. Prior to joining Morgan Stanley, Kit was with Merrill Lynch Wealth Management for nearly nine years. She served as Director of Gift Planning for The Community Foundation (now IECF) on her way to becoming a Certified Financial Planner™.
Kit is a graduate of the University of Minnesota, Carlson School of Management earned the Certified Specialist in Planned Giving ® from California State University Long Beach, American Institute of Philanthropy in 2001, became a Certified Financial Planner™ and Accredited Estate Planner® in 2013, and became a Qualified Plan Financial Consultant® in 2022.
For more information, please contact Jose A. Marquez, CSPG, Director of Planned Giving, at jmarquez@iegives.org.
Thank you to our sponsor, Manufacturers Bank.