In the wake of the COVID-19 pandemic, schools faced extraordinary challenges. Remote learning, staffing shortages, rolling school closures and spotty access to the internet were the norm for all, but they intensified inequalities in education among historically disadvantaged students and their peers. Underrepresented students, especially low-income students, girls, and students of color, were hit hardest.
Although the entirety of COVID-related repercussions is still unknown, research by the Learning Policy Institute shows that disparities in out-of-school learning opportunities translate into wide academic gaps. For underrepresented students, the pandemic added bricks to an already heavy backpack – and uphill miles to their journey toward a college degree.
In 2021, a philanthropic investment strategy spanning eight California counties, including to benefit local San Bernardino students, was launched through the San Diego Community Foundation. With this significant investment, IECF immediately went to work to address learning loss, isolation and the social-emotional impacts of the COVID crisis through the support of expanded learning (extended learning) programs serving all public school students in San Bernardino. The biggest question IECF faced was: How can we support learning loss and needed programs for our Riverside students as well?
A Community in Action
Enter The Larry and Helen Hoag Foundation, known for its commitment to empowering at-risk children. The Foundation played a crucial role in bridging the educational divide for Riverside students. In order to combat learning loss, isolation, and emotional impacts caused by the pandemic, the Larry and Helen Hoag Foundation donated $100,000 to IECF to chart Riverside students' paths to success; funds were used to create summer-learning opportunities in STEM (Science, Technology, Engineering, and Mathematics) and healthcare fields.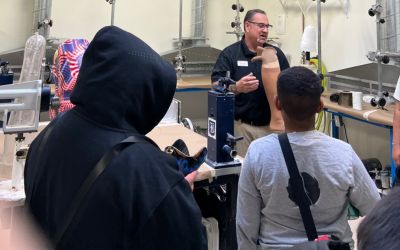 With local partners, IECF built a coalition that designed innovative programs and provided mentorship services for students across Riverside County. The coalition reached out to overlooked areas, forging new partnerships and focusing on healthcare workforce development and diversity.
Programs in Action
In addition to supporting coalition-building and long-term efforts to address the region's healthcare workforce issues, two summer programs were implemented with the Larry and Helen Hoag Foundation grant:
Exploring Careers through a Cultural Lens: This six-week summer program aimed to empower marginalized youth, including foster, transition-age youth (TAY), system-impacted, LGBTQIA+, and low-income students. Through workshops, team-building activities, and hands-on learning, students developed confidence in their communication, emotional intelligence, and academic skills.
Health Exploration and Well-Being Program: Students engaged in internships at healthcare sites, gaining real-world experience. Pre-training, placement, and post-internship evaluations ensured they gained a well-rounded understanding of their chosen healthcare field.
The Larry and Helen Hoag Foundation's support was instrumental in making these programs a reality. Through this initiative, Riverside's youth received valuable opportunities, guidance, and resources. IECF learned that continuous feedback and support were essential for combatting learning loss caused by COVID-19.
A Brighter Future
Thanks to the Larry and Helen Hoag Foundation's vision and generosity, Riverside's students also have a brighter future. This collaboration not only empowered individuals but also strengthened the region as a whole.
As we look ahead, it's clear that learning outcomes will continue to be a concern for youth affected by COVID for many years to come. Community support and investments in education will remain crucial. The Larry and Helen Hoag Foundation's donation serves as a shining example of how partnerships and philanthropy can make a profound impact on the lives of those most in need. Even in the face of adversity, we can continue to build a resilient and thriving IE for tomorrow's leaders.
Stay up to date on all the news about our work, powered by philanthropy! Sign up for our monthly eNewsletter, Philanthropy Matters.