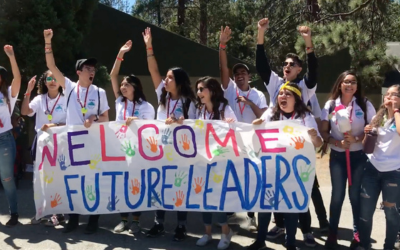 In the 1980s, Susan Castro, a teacher in the San Bernardino Unified School District attended a teacher conference and come back so inspired that she imagined providing something similar for students. When she discovered there was nothing like this available, she reached out to teachers Frank Acosta and Henry Vasquez. Her peers thought they knew someone who could help and took her to meet with Dr. Tom M. Rivera at CSU San Bernardino. The four of them put their heads together and organized the first Inland Empire Future Leaders Program (IEFLP) conference in 1985. The program has not missed a year since.
Each year, IEFLP services 8th and 9th grade Latino students, providing leadership training and cultural education. The six-day retreat takes place in Idyllwild at Idyllwild Pines Camp. Attendees participate in workshops that hone public speaking and leadership skills, provide college preparedness and career activities. The program also includes cultural activities that increase self-esteem. All programming is led by carefully selected mentors who represent sectors such as government, community organization, law, medicine and education.
"I'm very strategic every year in creating the program and while it's remained mostly the same, we make tweaks to stay relevant," IEFLP's executive director Dr. R.C. Heredia said.  "Students learn the importance of having their voices heard and positive assertiveness as well as explore issues of racism and immigration law and reform."
IEFLP accepts applications from anyone and while most of the participants live in San Bernardino and Riverside Counties, participants have attended from as far away as Fresno. Students can apply as long as they are in the correct age group, have a 2.5 GPA, secure two letters of recommendation and write an autobiographical statement. The application process is designed to give students a taste of applying for college and scholarships. Each year, 100 to 140 students attend free of charge and are supported by 65 volunteers who also must submit an application.
IEFLP has been highly successful in having a positive impact on participants' futures, according to Dr. Heredia. The program stays connected with alumni and 99% graduate from high school with 90% attending college. Many students and their parents also return to contribute time and financial support.
"We hear students and see it in their expression and behaviors that they have a sense of who they are, how they fit into their communities, family and the rest of the world," Dr Heredia said. "They are so inspired to make a difference not only in their own lives but in the lives of those who surround them."
This summer the conference took place from June 11 to 16, starting and concluding at CSU San Bernardino. The program is intentional about exposing students to the campus, giving them and their parents an opportunity to become familiar with the university and envision studying there. For many attendees it may be the first time they have set foot in a university.
Recently, Inland Empire Future Leaders Program received a grant from the CIELO Fund through the Inland Empire Community Foundation. As an all-volunteer organization, IEFLP depends on donations and grants to provide programming. The program requires approximately $100,000 a year.
Alumni are dedicated to the program, with most of the organization's board members having attended in their youth. One board member, Rudolfo S. Monterrosa, Jr. who attended Bloomington High School is an alum who went on to attend Stanford and Norte Dame Law School, serving as student body president. While he is now an immigration attorney in Indiana, he has not missed a conference since 1988.
Dr. Herredia encourages more of the community to get involved and support the program.
"Encourage your students, family and friends who are eligible to participate and carve out the time to participate yourself," he said. "Education and ethical leadership are so important for IE communities and our students need support."
More information https://iefl.org/ or  social@iefl.org
This story originally appeared in the Press Enterprise May 2023.
Learn more about the good work we're doing at IECF through the power of philanthropy. Subscribe to our free monthly eNewsletter, Philanthropy Matters.