May is National Pet Month, and we're privileged to share this story about a wonderful donor whose beloved pet, Gracie, inspired a philanthropic legacy of which we can all be proud.
"If I can put food on the table and take care of my family with some to spare, then it's my responsibility to help take care of the other people who are around me," says Shelley Gagnet, an IECF donor who has made giving back an everyday part of her life. She remembers learning the importance of giving through her participation in Brownies and Girl Scouts as a young girl. Shelley participated in philanthropy with her college sorority, Sigma Kappa, helping raise funds for Alzheimer's research, and has been a blood donor for most of her adult life.
When Shelley and her husband, Paxton, moved to the Inland Empire to invest in Crown Toyota of Ontario, they were determined to connect with the community. "We wanted to make sure our business was supporting the people we served, so I took on the role of Community Relations Director," she tells us. "We believe that in order for a business to thrive, it has to be a two-way street. The community that makes us successful needs to also benefit from that success. The best thing we can do is to give back."
Through her efforts, the dealership has opened its doors to many charitable events, including pet adoptions to support the Rancho Cucamonga Animal Center, blood drives with LifeStream, and Children's Fund blanket-making days to benefit children affected by abuse. Crown Toyota also maintains a rolling grant cycle to help nonprofits in the area and supports Team USA Olympians and Paralympians. This month, they're cheering on local para-cyclist Sam Bosco as she competes in Belgium and Germany for the Road World Cups.
Giving back doesn't stop at the dealership doors, though. Shelley is personally involved in supporting local organizations with her time and leadership. "It's important to understand the needs of your community," Shelley stresses. "I always want to spend time getting familiar with an organization so I can give in the most effective way." She served for several years as board member and president of Promise Scholars, which helps Ontario-Montclair students realize their college and career dreams. IECF is proud to manage the Ontario-Montclair Promise Scholars Fund, and through that connection, Shelley became acquainted with Jose Marquez, our Director of Planned Giving. "I knew IECF helped organizations like Promise Scholars, but it was eye-opening to learn about all the nonprofits in the region who also receive funding through the Foundation."
In 2021, the Gagnets were in a position to dedicate personal funds to causes they care deeply about. They contacted Jose, who helped them set up a Donor Advised Fund, which allows Shelley and Paxton to be actively involved in choosing grant recipients. The Gagnets have a special interest in supporting organizations committed to animal welfare, and have named the fund The Gracie Gagnet Memorial Fund in honor of their beloved fur baby, Gracie, who passed away in May of 2021.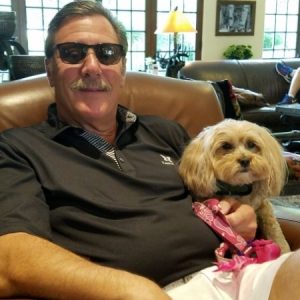 "Any pet lover will understand the depth of emotion we felt when Gracie passed after 16 years as a part of our family," says Shelley. "We brought her home at eight weeks old, and she cried the whole way! I was insistent that we would have a crate-trained dog, but that first night my husband said, 'Nope, we're not going to listen to her cry all night. Bring her to bed with us.' And the rest is history. Biggest little dog you ever knew – she took up most of the bed!"
Gracie loved going on walks, and Shelley fondly recalls that she met many of her neighbors – and their dogs – through the little Shih-Poo who "never met a stranger." More than just a pet, Gracie was a companion who shared in the everyday ups and downs. Shelley says, "She was a wonderful friend and wanted to be a part of everything we were doing. I was so glad to have her with me during COVID." Gracie battled cancer for three years before succumbing in 2021. The photos here were taken post-chemo after her fur had grown back, and they are a precious reminder of the impact Gracie had on those who loved her.
Shelley realizes that many animals in shelters don't get to be a part of a loving family. She regularly includes nonprofits that support animal welfare in her charitable giving, many times by honoring a friend or a loved one's pet who has recently passed. "The volunteers and staff do a great job, but they can't do it all. I think about the animals in shelters who don't get daily belly rubs and scratches behind the ears, and I want them to have homes of their own."
The Gagnets also support Guide Dogs of the Desert and The Living Desert, where one of Shelley's favorite exhibits is the newly opened Rhino Savanna. "I don't discriminate in my love for animals," she laughs. "And if you can't have a pet, you can always experience worldwide beauty through a visit to the Living Desert."
Shelley invites other like-minded philanthropists to consider the possibilities they can create by opening a fund with IECF. "It's our goal to shin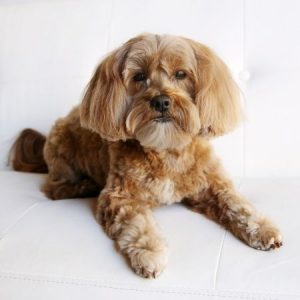 e a spotlight on the Inland Empire through our partnership with IECF," Shelley says. "It's such a big region, with many under-funded nonprofits that need our help."
We are grateful to Shelley for sharing her story with us, and for the generous philanthropy inspired in Gracie's honor. If you envision a legacy in memory of someone whose story should continue to be told, please contact a member of our charitable giving team:
Brie Griset Smith, Senior Vice President of Charitable Giving: bgrisetsmith@iegives.org
Jose A. Marquez CSPG, Director of Planned Giving: jmarquez@iegives.org