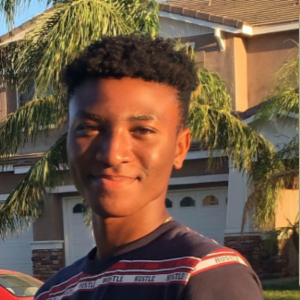 IECF is excited to welcome Emmanuel Okeke who was chosen as a Bank of America Student Leader for 2021. He is among five students from the Inland Empire to participate as Student Leaders.
Emmanuel, a junior at Summit High School, began his summer internship with IECF in June as part of the Bank's program to develop the next generation of community leaders. Some of his tasks will be helping with upcoming events, social media and research, and getting to know each of the departments at IECF.
Every year the Bank of America program connects 300 community-minded high school juniors and seniors across the U.S. with a paid eight-week summer internship at local nonprofit organizations. Student Leaders also attend the weeklong Bank of America Student Leadership Summit in Washington, DC in July, though this year it will be done virtually.
Emmanuel was selected for his involvement with organizations like the American Red Cross and his strong leadership qualities. While in high school, he became inspired to create an organization called Pre-Med HS, which exposes students early on to the medical field and the various paths they can take to begin a career in the healthcare industry. Emmanuel's personal goal includes becoming a doctor and opening a practice in the Inland Empire.
"I wanted to become a Student Leader to commit more of my time towards making a difference in my community, while also gaining job experience that would benefit me in the workplace," said Emmanuel.
Welcome to the team, Emmanuel!