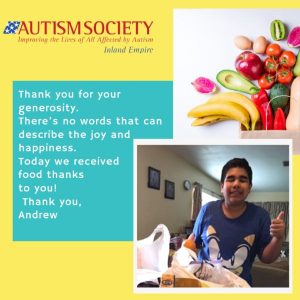 This September, IECF awarded over $134,000 in grants to 17 nonprofits for programs serving disabled persons, victims of abuse, people with mental illness and special-needs children. These grants were made possible by four Field of Interest funds at the Inland Empire Community Foundation.
The Field of Interest funds are: Seraphim Fund which aids women and children; Fred and Eva V. Stebler Fund which provides for the treatment and care of indigent children in Riverside County with an emphasis on children with special needs; James Bernard and Mildred Jordan Tucker Fund which benefits wheelchair users; and the Irene S. Rockwell Fund which benefits the city of Perris.
The 2020 Field of Interest funds grantees are:
Seraphim Fund:
Assistance League of San Bernardino for underserved children's access to preventive dental care – $10,000
Building A Generation for Mental Health Education & Counseling (MHEC) Program – $4,683
Child Advocates of San Bernardino County to prepare high-risk foster youth for life on their own- $10,000
Inspire Life Skills Training for education, life skills training, and mental health counseling for female students – $10,000
Mama's House for mental health counseling – $4,683
Fred and Eva V. Stebler Fund:
Autism Society Inland Empire Inc. to assist families with food distribution and connection with vetted resources – $10,000
Inland Counties Regional Center Inc. to provide financial resources and counseling to children and adults diagnosed as having autism, cerebral palsy, epilepsy, and intellectual disability – $10,000
Operation Safe House Inc for "What's Up" SafeHouse Mobile Crisis Texting App – $10,000
Samaritan Counseling Center – for Behavioral Education And Management Services (BEAMS) program – $9,000
Irene S. Rockwell Fund:
Boys & Girls Club of Menifee Valley for clubhouse programs – $4,052
Enhance the Gift Ministries for visual & performing arts camp – $2,000
North County Health Services for Intraoral Camera for the NCHS Perris Health Center – $2,475
James Bernard & Mildred Jordan Tucker Fund:
Canine Support Teams Inc. for providing assistance dogs to the Brave Men And Women (PAWZ) – $10,000
Coachella Valley Youth Golf Foundation for Stand up and Play Foundation All-Terrain Paramobile – $10,000
Pathfinder Ranch Inc. for improving Accessibility in Recreation Areas with Adaptive Equipment – $8,729.00
Peppermint Ridge to replace the uneven concrete in the park area and create level pathways to access the park – $8,800
United States Adaptive Recreation Center for adaptive ski Equipment for persons using wheelchairs for mobility – $9,856
Stated Beth Buth, Executive Director of Autism Society Inland Empire, "We are so grateful to the Fred Stebler & Eva V. Stebler Fund and to the Foundation for their generous donation of $10,000. These funds are going to provide holiday meals and groceries for families in Riverside County who have a child or an adult with autism. Hunger and food insecurity have increased since COVID. Thank you to IECF for your partnership and your determination in facing hunger in Riverside County and helping our autism community have access to nourishing food."
For a full description of the Field of Interest grants, to determine eligibility, and to apply online, please go to IECF's website at www.iegives.org.