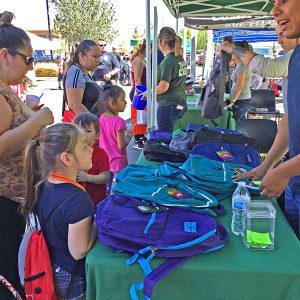 IECF recently awarded $293,381 in grants to 38 nonprofits – all working to be more effective and sustainable in the communities they serve. These one-year capacity building grants were made possible by the Community Impact Fund at the Foundation.
The Community Impact Fund makes awards to nonprofits to increase their core capacities to carry out their missions. It is meant to enable an organization to reflect, learn, and take action in developing short and long-term, sustainable solutions to challenges they face in addressing critical community needs.
The 2019 one-year Community Impact Fund grantees are: Abc Hopes Inc., Arrowhead United Way, Assistance League of San Bernardino, Bear Valley Community Healthcare District Foundation, Building A Generation, Carols Kitchen Inc., Centro Del Inmigrante Inc., Coachella Valley Community Trust, Coachella Valley Horse Rescue, Community Now, Desert Best Friend's Closet, Elder Love USA, Esperanza Scholarship Foundation Dollars for Scholars, Highlanders Boxing Club, HIV + Aging Research Project – Palm Springs, Inland Counties Regional Center Inc., Inland Empire Community Collaborative, Morongo Basin Cultural Arts Council, Mountain Homeless Coalition, Nehemiah Charitable Fund, Palm Springs Opera Guild of the Desert, Project TOUCH, Queen of Hearts Therapeutic Riding Center, Inc., Rebirth Homes, Redlands Symphony Association, Riverside County Philharmonic Association Inc., Sahaba Initiative Inc., San Bernardino Fatherhood, San Jacinto Mountain Community Center Inc., Steinway Society of Riverside County, The Empowerment Center, The First Tee of the Coachella Valley, The LGBT Sanctuary Palm Springs Inc., The Sheila Foundation, United Way of the Desert, Variety – the Children's Charities of the Desert, Women Wonder Writers, and Women's Breast Cancer Resource Center.
"Everything I do is based on my youth and my experiences and my goal is to teach them to cope," Shor Denny, Community Now's founder and CEO, said. "We are one of the few organizations that focus on elementary schools."
To learn more about the Community Impact Fund, contact Celia Cudiamat, SVP of Grants and Community Impact at ccudiamat@iegives.org or visit iegives.org.