IECF's commitment to growing the organization's assets through planned gifts has more significant meaning than ever. The Inland Empire, home to 4.2 million residents, is a region full of opportunities, yet one with many challenges.
When a donor establishes a planned gift, they are leaving a legacy that will transform communities and change lives for decades to come.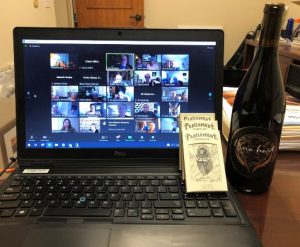 Earlier this month, IECF launched the first in a series of conversations with donors who want to do more with their philanthropy through the creation of a planned gift. How planned gifts can genuinely impact the future of the region was the subject of IECF's program.
Michelle Decker, President and CEO of IECF, welcomed attendees and shared her vision of growing a culture of philanthropy in the Inland Empire. "The magic of a Community Foundation," she said, "is created by donors who will move an 80-year-old organization into the next 80 years. We will be there to meet the needs of our community, spurred on by the passion of our donors."
Terry Bridges, a well-respected, retired attorney from Riverside, spoke about the joy that he and his wife, Sharon, receive through giving. Taught by his father at an early age that he had an obligation to contribute to the community that had been so good to him, he quickly learned that acting on the obligation returned a joy he's not found elsewhere. Terry values the relationships he's developed with IECF staff, and he appreciates that the Foundation shepherds his donations while allowing him to be involved in the decisions about how the funds are used.
Jill Henderson, Director of Development and Community Outreach with the Humane Society of San Bernardino, talked about the impact that grants from the Albert & Anna Herdina Memorial Fund for Animals have had on senior citizens. "Especially during the pandemic," she said, "we learned that low-income seniors were at risk for a mental health crisis if anything happened to their pets. Sometimes they're faced with the choice between their own health care and that of their beloved animal. These funds allow us to take that weight off their shoulders." This fund was established through a planned gift. The Albert & Anna Herdina Memorial Fund for Animals is an endowed fund that began with $1.9 million, and since 2004 has distributed over $1.6 million. The current fund balance is $2.9 million.
Our final speaker was Michelle Fausto, a two-time recipient of the Castro/Falk Endowed Scholarship Fund of the Coachella Valley through IECF. Established by Dr. David Falk in 2014, the fund has given out over $200,000 to deserving students. Dr. Falk furthered his philanthropy by naming the Foundation in his will, which endowed the scholarship in perpetuity. The Castro/Falk Endowed Scholarship Fund of the Coachella Valley is awarded to Coachella Valley students who demonstrate motivation, perseverance, and a sincere desire to gain an education. It is one of the few multi-year scholarships offered locally. During her undergraduate work at UCLA, Michelle credits the scholarships with making it possible for her to focus on her studies and stay involved in her community. As a first-generation high school and college graduate, she now considers it her privilege and responsibility to act as a mentor to youth of Hispanic heritage.
The evening wrapped up with a wine and chocolate tasting, facilitated by Ryan Berk, founder of Parliament Chocolate in Redlands and Chris Kern, Owner of Chris Kern's Forgotten Grapes.
Our guests learned the sophisticated process of making chocolate as they enjoyed red wine or sparkling water and three different Parliament bars.
If you'd like to attend an informational event in the future and learn how you can plan today for an impact that will last for generations to come, please contact Jose Marquez, Director of Planned Giving, at 951.241.7777 ext. 113 or jmarquez@iegives.org.