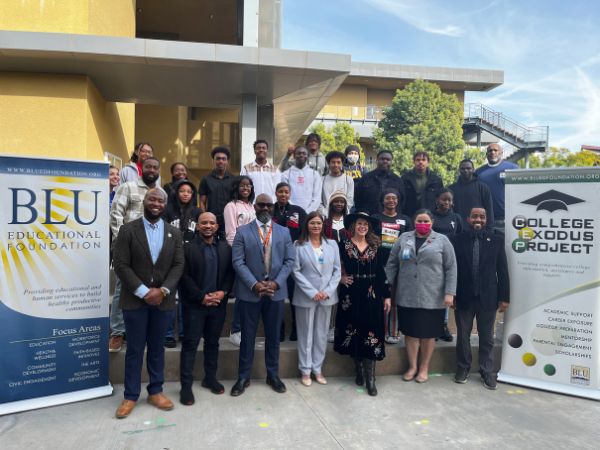 For Black History Month, we're proud to spotlight BLU Educational Foundation in San Bernardino. As a component of its College and Career Access Program to help seniors in high school connect with careers, BLU hosted its first Job Shadow Day on Thursday, February 2, 2023. The Career Advising and Purposeful Pathways team coordinates with school districts to look at pathways to careers offered and works to take this a step further. Students connect with experts in the field of their choice and learn more about the process to pursue and achieve success in the field.
Thanks partly to IECF Board Member Joseph Williams, who also serves as Community Agent of Strategic Planning at Rialto USD, the job shadowing occurred at the Rialto and San Bernardino City USD offices, where students from their respective districts toured multiple departments related to their desired careers. Students learned about information technology, nutrition, purchasing, student wellness, architecture, and other departments.
Students from Rialto Unified School District toured each department as a group, and a smaller cohort from San Bernardino City Unified School District toured one-on one-with directors from a department that worked in a field of their interest. Students expressed appreciation to the staff and administrators for organizing the opportunity and 93% reported they would recommend participation in this program to another student.
"The event was successful," said the CEO of BLU, Dina Walker. "It is embarking on our Career Development work, and the young people that were able to participate were extremely excited."
Dexter Hammond, a student from Arroyo Valley High School shadowed an architect and developer. He looked at plans and designs and then got to see how they were implemented when he was taken to Pacific High School. He also discovered there were numerous job positions that brought the projects to fruition and multiple job paths.
Damilare Ijibayiwa, a student who participated in the event was interested in pursuing a career in cybersecurity. He was excited about learning more and BLU will offer a more in-depth shadowing experience for Ijibayiwa and two other students who have set their sights on the career field.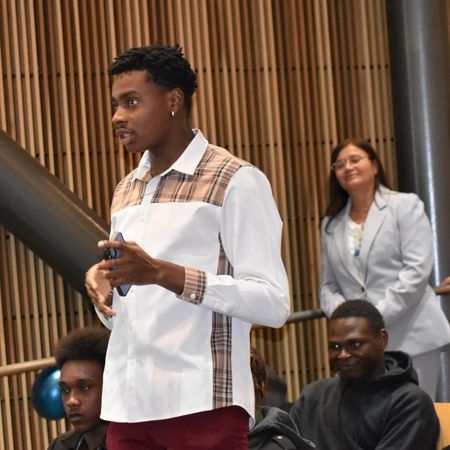 BLU Education Foundation is a community partner and past grantee of the Inland Empire Community Foundation. The organization can always use more funding to build its capacity and provide more activities for students. The organization helps students understand and meet their college requirements and apply for student aid as well as introducing them to career paths.
National Job Shadow Day takes place on February 2 annually and the organization plans to continue this event. BLU will also help students who participated in job shadowing find internships and mentorships that will move them forward in their chosen fields of interest. The organization's goal is to place students in these positions and assist them with stipends and scholarships as they intern and gain skills that will aid their success, closing the gap in Black and Latinx career readiness in the region. They also hope to expand the program to more school districts.
Project lead and Career Partnerships Coordinator, Robert Gipson, invites organizations to join BLU's Career Access initiative. "If you're interested in partnering, reach out as this is just the initial phase of our Workforce Development program in the Inland Empire," he said.
More information: https://www.bluedfoundation.org/ or 909-685-9995
Sign up for our monthly eNewsletter to learn more about the good work nonprofits are doing in the IE!