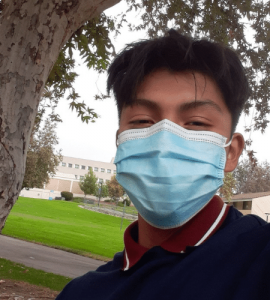 As college-bound students begin their search for scholarships, it's important that we remember and reflect on how crucial this type of funding is for many Inland Empire students. Through the generosity of donors like Bruce and Regen Dennis, IECF is opening doors and creating pathways for the next generation.

Juan Vega is the first recipient of a scholarship from the newly created Bruce and Dennis Regen Scholarship Fund. As a freshman at Cal State San Bernardino/Palm Desert Campus, Juan is studying Kinesiology with an emphasis on Exercise Science. He hopes to establish a career in the Coachella Valley as an exercise physiologist, working with high-risk patients coping with chronic illnesses like diabetes, obesity, and heart disease.
Juan has always been athletic, but in 2019, physical fitness took on a whole new meaning for him when his mother suffered an aneurism. She underwent surgery and was in the hospital for three weeks, including one week in ICU. Juan dealt with the stress and emotional burden of his mother's sudden illness by turning to exercise, and he saw that it became a positive force in his mental and physical health. His mother is at home now, gradually recovering with the family's help.
Juan's parents have always encouraged him to seek a college education. "My dad is a landscaper," Juan says, "and I've worked alongside him since I was six years old. I remember those long, hot days in the sun after hours of trimming hedges and mowing lawns." "This isn't work," his dad would say, "This is survival. I want more for you."
Juan is grateful for the assistance he received through the Bruce and Dennis Regen Scholarship Fund and wants his supporters to know that he is giving his full attention to his education. "As immigrants, my parents' dream for me is a college degree. I want to honor them by building something better for my family."
When asked what advice he would give to current high school students, he says, "Focus on your academics, get involved in programs like AVID and the California Scholarship Federation, and don't be afraid to ask for help when you need it."
Congratulations from all of us at IECF, Juan. We wish you much success in your studies!
A list of available scholarship opportunities and their upcoming deadlines can be found here. "In 2020, over $4 million in scholarships and educational support were awarded to Inland students through the Foundation," said Celia Cudiamat, Senior Vice President of Grants and Community Impact at IECF. "By providing scholarships to them, made possible by generous donors from the region, we are building a stronger future for the region."